Student members of Appalachian State University's Business Honors Program traveled to New York City Nov. 17-19 to learn about business practice and policy.
The students had opportunity to submit resumes for internships and jobs in New York and networked with Appalachian alumni and industry partners.
The delegation also made time to visit Rockefeller Center, Platinum Recording Studios, the Museum of Modern Art, the Plaza Hotel, the 9/11 Memorial, and the famous Cake Boss bakery, among other sites.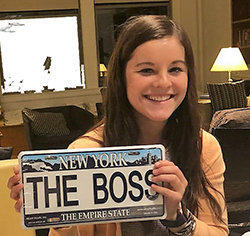 To become familiar with the city, the students participated in a scavenger hunt. Pictured at left is scavenger hunt winner, Honors Association President Elect Alexis Selby. The Honors Association is the student-elected organization for the Walker College of Business Honors Program.
"The students had a list of 10 very difficult to accomplish tasks," said Honors Coordinator Samantha Fuentes. "Alexis had the high score in the contest and has now been named 'The Boss' of the trip."
Pictured from left are Fuentes, CIS and Supply Chain Management Professor Lewis Alexander and Grant Thornton Associate Alex McLanahan with students Ivy Wagner, Mason Garwood, Cole Maita, Sarah Fishel, Alex Selby, Paige Schurter, Sara Velasco and Logan Turner at Grant Thorton Manhattan.
The Walker College of Business Honors Program, a selective program for students maintaining a minimum of a 3.4 GPA, will host honors thesis presentations on Thursday, December 7.
The event, which is open to the public, will be held in Peacock Hall 4014.
The presenters and approximate presentation times are:
9:00 AM - Matthew Zothner: Autonomous Vehicles: Safety, Ownership and Experience (Thesis Director: George Shows)
9:25 AM - Paige Schurter: The Effects of Priming on Accountant Decision Making (Thesis Director: Dr. Rebecca Hutchins)
9:50 AM - Emily Young: Preventing Fraud in Churches: An Analysis of Segregation of Duties Implementation (Thesis Director: Dr. Dawn Medlin)
10:15 AM - Olivia Chason: Vibrant and Crystal Clear: A Study on the Effects of Figurative Language in Consumer Reviews (Thesis Director: Dr. James Stoddard)
10:40 AM - Jacquelynn Huckert: An Analysis of the Accounting Stereotypes in the University Setting (Thesis Director: Dr. Rebecca Hutchins)
11:05 AM - Sean Flatery: Bookkeeping in the Cloud: Advancements in Accounting Software (Thesis Director: Dr. Scot Justice)
11:25 AM - James Marlowe: ESG Reporting and Valuation of Oil and Gas Exploration and Production Companies (Thesis Director: Dr. Tammy Kowalczyk)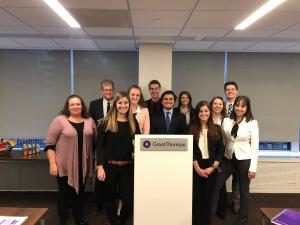 Tags: