A Business Club Expo will take place Thursday, January 19 on Appalachian State University's campus, with an aim to help students majoring or minoring in business find their niche in the Walker College of Business.
The event will be held in Peacock Hall's second floor Broyhill Commons / Boyles Lobby area, between 10:00 a.m. - 2:00 p.m.
Business Club Expo is a way for leaders of the 20+ business-oriented student organizations to find new members, but also a way for individuals to develop community with others. Clubs and organizations are an important part of the Appalachian experience, and student organizations help students develop skills to become good citizens and strong contributors in their communities. Joining a business-oriented club further develops students as professionals and, along with their major coursework, helps orient members to their fields of choice.
Students of all majors are invited to stop by the informational tables at their convenience.
Make plans to attend
No registration is required. Drop by to "find your place" at App State or learn more about the featured clubs at business.appstate.edu/clubs.
About Business Club Expo
A Business Club Expo is held early each semester to assist students in finding their niche at Appalachian. Sponsored by the Walker Fellows. For more information, email walkerfellows@appstate.edu.
Featured organizations may include:
American Marketing Association
Appalachian Supply Chain Club
Association of Information Technology Professionals
Association of Student Entrepreneurs
Beta Alpha Psi
Bowden Investment Group
Enactus
Executive Impact
Finance Student Association
Gamma Iota Sigma
Hospitality & Tourism Management Student Association
Institute of Management Accountants
National Association for Business Economics
Phi Beta Lambda
Pi Sigma Epsilon
Society for Human Resource Management
Study Abroad
Walker Fellows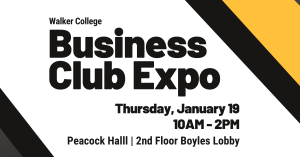 Tags: