Alumni, employees and friends of the Walker College of Business are invited to drop by a pre-game tailgate this Saturday, October 7.
The event will take place from 12:00 - 2:00 p.m. on the Peacock Hall (formerly Raley Hall) Patio (first floor entrance).
The 2017 Walker College of Business Game Day at Kidd Brewer Stadium will be held in conjunction with Appalachian State University Homecoming.
Meet fellow alumni and friends, and pick up refreshments and giveaways, while supplies last, before heading over to the Rock to cheer the Mountaineers onto a victory against New Mexico State.
Related: View photos from the 2016 Walker College Game Day Tailgate
The tailgate is free and open to the public. For information on tickets to the football game, contact the ticket office, 828-262-2079, goasu.com. Questions? Call 828-262-2057 or email wcob@appstate.edu.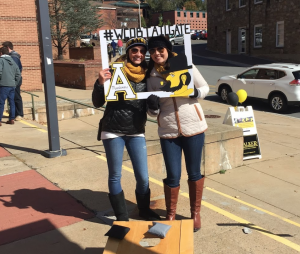 Tags: