Alumni and friends of the Walker College of Business are invited to a tailgate, co-presented by the Brantley Risk & Insurance Center and the Walker Fellows, on the Peacock Hall patio (formerly Raley Hall patio) Saturday, September 29, 2018, 12:00-2:00 p.m.
Participants will meet fellow alumni and friends, enjoy refreshments, and pick up giveaways (while supplies last) before the Appalachian State University Mountaineers take on the South Alabama Jaguars.
The event will begin four hours prior to kick off, which is tentatively set for 3:30 p.m.
View the most up-to-date football schedule.
The tailgate is free and open to the public.
Purchase Single Game Tickets
For information on tickets to the football game, contact the ticket office, 828-262-2079, or go online, goasu.com.
Related: View photos from the 2017 Walker College Homecoming Tailgate
For additional 2018 Homecoming weekend opportunities, visit homecoming.appstate.edu.
Related: 2018 Walker College of Business Game Day at Kidd Brewer Stadium will be held October 20.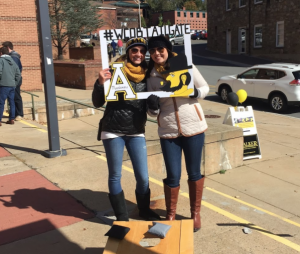 Tags: