The Walker College of Business hosted a game day tailgate celebration on October 7, 2017. The day coincided with Appalachian State University Homecoming.
Alumni, faculty and friends of the college came together on the Peacock Hall patio to re-connect over lunch and games.
During the football game, AppState Athletics recognized the university's scholar athletes with a short, on-field ceremony. The students had earned a cumulative GPA of 3.0 or better while playing a varsity sport.
Management Majors Parker Collins (Football), Dallas Devrieze (Baseball) and Makayla Roten (Women's Track & Field/XC), Finance and Banking Major Ben Steen (Men's Soccer), Marketing Major Keegan Tanaka (Men's Soccer), Economics Majors Megan Mullen (Women's Tennis) and Forrest Przybysz (Men's Wrestling), Computer Information Systems Major Evan Laratta (Men's Track & Field/SC), International Business Major Sloan Evans (Women's Track & Field/XC), and Marketing and Supply Chain Management Double Major Christopher Anderson (Men's Track & Field/XC) earned the honor.
The deans of the university's academic colleges helped honor these students on-field. Walker College Dean Heather Norris snapped a game day selfie. Pictured from left is Norris with Reich College of Education Dean Melba Spooner, Beaver College of Health Sciences Dean Marie Huff, and College of Arts and Sciences Dean Neva Specht.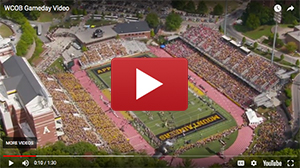 Fans viewed a brief video about some of the ways the Walker College is making a difference in the lives of our community members.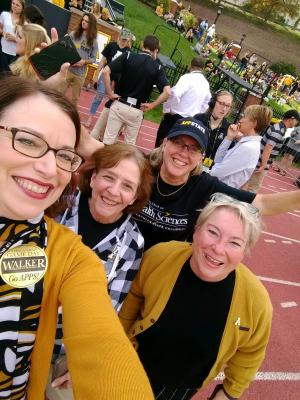 Tags: