On Monday, September 25, faculty and staff from the Walker College of Business hosted 50 hospitality and tourism educators from regional high schools on the campus of Appalachian State University for a workshop in partnership with the NC Restaurant and Lodging Association (NCRLA) and the NC Hospitality Education Foundation (NCHEF).
The NCRLA Fall Educator Workshop provides a forum each season to collaborate and discuss industry trends and education. The 2017 event, which was held in Appalachian's Peacock Hall, featured speakers including educators and administrators from the NC Department of Public Instruction.
Speakers included Wright Tilley, Boone Area Tourism; Mandy Hines, NCRLA; Ed Phillips, Burke County Tourism; Chris Cavanaugh, Magellan Strategy Group; Amanda Lugenbell, Blowing Rock Tourism; RJ Bergman, The Umstead; Sarah Davis, Hickory Convention Center; and Ron Larsen.
The professional development opportunity was offered to NC ProStart, culinary arts, and hospitality teachers from around the state.
"This is a great opportunity to showcase the Hospitality and Tourism Management Program at Appalachian to a group that advises prospecitve students," said Dana Clark, who leads Appalachian's hospitality program. "Appalachian is providing cutting edge information to top high school hospitality educators working with those students now."
Topics covered ranged from foodservice trends such as sustainability and public assembly venues to farm-to-table concepts and emerging technologies. From Appachian, Clark offered insight on possibilities for internships and partnerships with Appalachian, and Jonathan Carpenter, Assistant Director of Appalachian's Transportation Insight Center for Entrepreneurship, presented information on current entrepreneur education initiatives.
The two-day workshop also offered a tour of Appalachian Mountain Brewery and Linville Ridge Club, where participants viewed back of the house operations.
About the Hospitality Program
Appalachian State University's Hospitality and Tourism Management (BSBA) degree program prepares students for management and marketing careers in commercial food service companies, hotel and lodging properties, conference and resort centers, convention services, meeting and event planning, destination marketing and country club management. The program emphasizes industry connections and experience, and students learn from respected and engaged faculty members who have worked for major hospitality and tourism businesses and organizations. For more information, visit appstate.edu/academics/majors.
About Walker College of Business
The Walker College of Business at Appalachian State University delivers transformational educational experiences that prepare and inspire students to be ethical, innovative and engaged business leaders who positively impact our community, both locally and globally. The college places emphasis on international experiences, sustainable business practices, entrepreneurial programs, and real-world applications with industry. Enrolling nearly 3,000 undergraduates in 10 majors, and approximately 175 graduate students in Master of Business Administration, Master of Science in Accounting and Master of Science in Applied Data Analytics programs, the Walker College is consistently named one of "The Best Business Schools" by The Princeton Review and is accredited by AACSB International – the premier global accrediting body for schools of business. For more information, visit business.appstate.edu.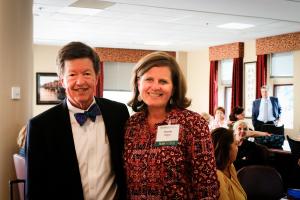 Tags: