The Walker College of Business held its semi-annual Business Club Expo on Tuesday, August 23. The expo featured information tables hosted by representatives of nearly 20 business-oriented student organizations at Appalachian State University.
Organizations included groups that span all majors such as Walker Fellows, DECA and Phi Beta Lambda (FBLA), as well as discipline-specific organizations like the Association for Information Technology Professionals, Project Management Club and the National Association for Business Economics. Although many organizations specialize in a specific business concentration, with members majoring in those areas, most are open to all students of all majors.
Other organizations represented included the International Business Student Association, the Finance Student Association, the Hospitality and Tourism Management Student Association, the Society for Human Resource Management, Gamma Iota Sigma, the Appalachian Supply Chain Club, the American Marketing Association, the Association of Student Entrepreneurs, Net Impact, Pi Sigma Epsilon and AIESEC.
Both undergraduate students and graduate students participate in student organizations in the college. The official student group of Appalachian's MBA Program, Executive Impact, also hosted an information table.
During the event, each club had the opportunity to set up an informational booth, while club members and leaders had the chance not only to answer any questions but also to recruit new members. The expo serves as a forum for club leaders and members to encourage unaffiliated students to join and get involved in the college.
View photos of the event online.
The event is coordinated by the Walker Fellows, the student ambassadorial group of the Walker College of Business. For more information, email walkerfellows@appstate.edu.
For more information about the student organizations available in the Walker College, visit business.appstate.edu/students/clubs-organizations.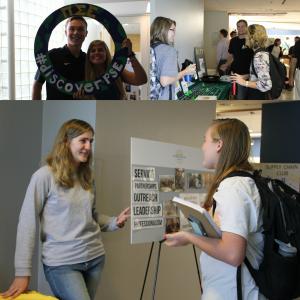 Tags: