The BB&T Student Leadership Center, housed in Appalachian State University's Walker College of Business, will once again present a Professional Development Series for the upcoming semester.
The six-part series will take place on Tuesday evenings at 5:00 p.m., beginning on August 29.
Each hour-long discussion will offer topic-specific career, professional and leadership development advice. Leadership center staff members or expert guests will deliver the material.
All presentations will be held in Peacock Hall Room 1010. The dates and topics are as follows.
August 29: Resume Writing
September 5: Dress the Part
September 12: LinkedIn
September 19: Interview Skills
September 26: How to Work a Career Fair
October 3: How to Write a Cover Letter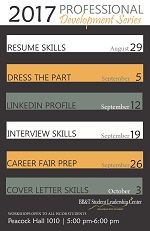 All business students, regardless of major, are encouraged to join one or more sessions, as the series covers a variety of topics designed to help business students 'land the job' and prepare for a successful and fulfilling career after college. No registration is required, and there is no fee to participate. Seats are available on a first come-first served basis.
For more information, contact BB&T Student Leadership Center Executive Director Michelle Boisclair, boisclairm@appstate.edu.
About the BB&T Student Leadership Center
The BB&T Student Leadership Center provides opportunities for business students to build career skills through professional and leadership development training. The center provides career services with personalized coaching and support to business students as they prepare for a career beyond Appalachian. The center serves as a link between students and employment recruiters and alumni, and it provides programs and services to assist students as they develop professionally inside and outside of the classroom. Services offered include mentoring, leadership case competitions, career counseling, resume development, internship placement assistance, job search strategies, mock interviewing and salary negotiation training. For more information, visit businessleadership.appstate.edu.