Members of the Walker College of Business staff took time out from their usual duties to make improvements to Peacock Hall on the campus of Appalachian State University this week. The employees met August 17, prior to the start of the 2017-18 academic year, to beautify part of Appalachian's campus as part of a summer staff retreat.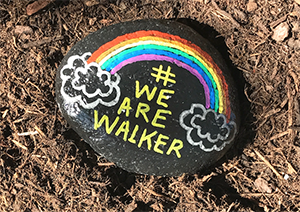 During the morning session, the team planted seasonal bulbs, mulched, and painted, among other enhancement projects in partnership with Appalachian's Physical Plant. The group also strategically placed painted rocks around the building, in partnership with Color Watauga, a service project aiming to spread positivity throughout the high country community.
The business team then participated in an interactive team-building opportunity facilitated by Appalachian's Office of Human Resource Services Professional Development Coordinator Emily Wilson.
The day was coordinated by the college's Walker Impact Network (WIN), which aims to support staff excellence and aspires to support the college's vision, mission and values.
"Our WIN team did an excellent job leading the effort," said WIN Chair Christy Cook. "Special thanks to Maira Compagnone, Samantha Fuentes, Sheri Lawrence, Sharon Meinhardt, and Becky Stoddard for making a difference in our community."
Cook added that the college's leadership team encouraged the opportunity. "Without Walker College Dean Heather Norris' support, this fun and rewarding day would not have been possible," she said.
"Our landscapers had a blast partnering with the Walker College team," said Physical Plant Analyst Michelle Novacek. "We supplied the tools and a little know-how, but they brought the enthusiasm -- and it was catching. They made their little corner of campus more beautiful, and we hope they invite us back to do it again."