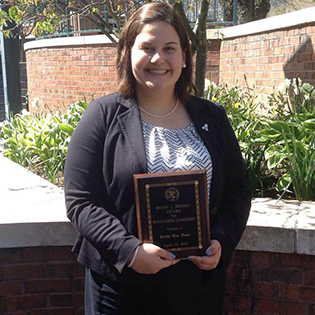 Junior Management and Entrepreneurship major Emily Haas and Marketing and Entrepreneurship major Hope Canipe have received 2015 Ronny L. Brooks awards.
The award, which is presented annually by Appalachian's Center for Student Involvement and Leadership, recognizes Appalachian students who have distinguished themselves through their exemplary leadership provided to Appalachian students, programs and organizations.
Chancellor Sheri N. Everts and Jamar Banks, Director of the Center for Student Involvement and Leadership, presented the award during a program on April 24 in the Plemmons Student Union.
As president of the Walker Fellows, Emily has gone beyond what is expected in the normal course of a leadership position, and she has fostered the development of others, empowered students, contributed in significant and specific ways to her respective organizations and furthered Appalachian's goal of having an engaged student body.
"Emily is a born leader with a commitment to making the world a better place and an advanced skill set to navigate complex and challenging organizational problems," said a nominator. "Emily exemplifies ethical, academic and professional attributes not usually found in individuals her age and she has used these skills to tackle challenges in the service of the entire campus."
In addition to serving as Walker Fellows president, Haas also manages the successful BootstrAPPs organization, has served as a Martha Guy Summer Institute leader, represents the College of Business on the Aportfolio pilot, and is a WH Plemmons Fellow, a Student Orientation Undergraduate Leader (SOUL), an alternative spring break peer leader, a red flag educator, and a member of the academic integrity board.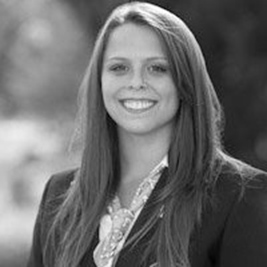 Hope is President of the Appalachian Ambassadors and a conference coordinator for the Council for Advancement and Support of Education/Affiliated Student Advancement Programs, where she also presented in both district and national competitions in 2013 and 2014. She has served as a PanHellenic representative for Alpha Delta Pi Sorority for 4 years and is a founding member of the Student Philanthropy Board.
"Hope is not only an amazing student leader, she embodies all the skills, commitment and motivation that successful professional leaders should possess," said a nominator. "Her contributions to Appalachian are truly outstanding and ongoing. It is rare to find students who are as dedicated to constantly improving everything with which they are engaged, as well as consistently working to strengthen and grow herself as a student, professional, leader, mentor and friend."
Ronny Brooks served as dean of students at Appalachian, where he was actively engaged in encouraging students to serve in leadership opportunities. For more than 20 years, Brooks engaged in developing a better learning environment for students and recognized the value gained from out of class involvement. Dean Brooks passed away while serving as dean of students.
The awards ceremony also honored three additional recipients of the Ronny L. Brooks Award for Outstanding Leadership: Stanley Broaden, Hope Canipe and Rebeka Mattox; as well as recipients of the Bobby L. Dunnigan Award for Outstanding Service and Gregory S. Blimling Award for Outstanding Graduate Student in Student Development. Students were also named to the Who's Who in American Universities and Colleges Program during the ceremony.