The Watauga Democrat recently reported that more than 500 meals were served to community members in need this past Thanksgiving holiday, thanks to Boone-based Green Street Catering, a nonprofit organization that has served over 50,000 meals since 2010.
Walker College of Business students – participants in the peer mentor program and members of the Walker Fellows student ambassadorial group – assisted with the assembly of food baskets.
Pictured, from left, Walker College of Business Fellows Avery Fink, Taelor Critcher, Rachel Foutz and Rachel Wynn volunteer at Green Street Catering's Nov. 17 packing party to assemble Thanksgiving food baskets for families in need. Photo courtesy Watauga Democrat.
Green Street Catering Executive Director Chastity Rumley Lesesne, who is a Walker College of Business alumna, led the effort.
Through a distribution network of area churches, social workers and community organizations, Lesesne and the volunteers provided 325 baskets containing a full Thanksgiving meal of turkey, stuffing, corn, green beans, cranberry sauce, mashed potatoes, macaroni and cheese, turkey gravy, rolls and pies. Seventy-five additional baskets provided the turkey only. One hundred meals were also served to people in their homes on Thanksgiving Day, including the elderly and others for which preparing a meal might be too difficult or overwhelming.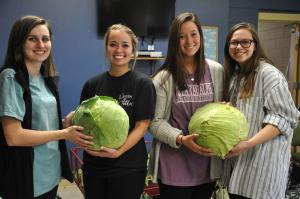 Tags: