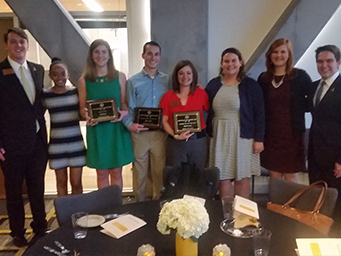 The Walker Fellows, the student ambassadorial program for the Walker College of Business, recently earned the Professional Organization of the Year and were finalists for the Student Organization of the Year award as part of the Student Organization Leadership awards.
These awards are given to organizations that have exemplified outstanding achievements and organizational development among their peer groups.
Walker Fellow member and junior accounting major Emily Young also took home the Rising Star Award, which is awarded to a first year member, who has made great contributions to their organization.
Additionally, club advisors Michelle Boisclair and Amy Odom were awarded Advisors of the Year, in recognition of their dedication, availability, and energy in their involvement with the students.
The purpose of the Student Organization Leadership Awards is to recognize the outstanding leadership and achievements of Appalachian State University's student organizations, students, and advisors and is hosted by the Center for Student Involvement & Leadership (CSIL) and Club Council.
More information about the awards can be found on the Center for Student Involvement and Leadership site.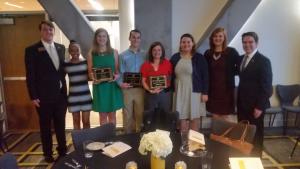 Tags: