Jaalen Corpening, an academic advisor in the Walker College of Business, earned the 2023 Excellence in Advising Advisor Award for Professional Advisor by Appalachian State University's Undergraduate Advising Council (UAC).
The Undergraduate Advising Council (UAC) established App State's first university wide, peer nominated academic advising award in 2019. These awards are presented annually to a faculty advisor, a professional advisor, and a student support professional who best exemplify excellence in academic advising, according to the following criteria:
Consistently demonstrating a caring and helpful attitude.
Delivering accurate information regarding program requirements, including Gen Ed.
Providing insight for semester/career planning.
Informing advisees of available university resources.
Keeping up to date on App State's regulations, policies, and procedures.
Supporting student development through academic, social, and professional engagement.
Monitoring and communicating student progress toward graduation.
The UAC Excellence in Academic Advising Awards are peer-nominated and include a plaque and a $500 stipend. Learn more about the awards and see past recipients on the UAC Awards webpage.
Jaalen Corpening
Corpening joined the academic advising staff in the Walker College in 2021. She previously served as a counselor at Caldwell Community College and Technical Institute. Corpening earned a bachelor's degree from the University of North Carolina at Chapel Hill and her master's degree from Appalachian.
About Academic Advising at App State's Walker College of Business
The Walker College of Business (WCOB) Academic Advising Center is a centralized advising center staffed by professional advisors and records specialists who serve current and prospective BSBA majors, BA-Economics majors and other students taking business courses at Appalachian State University. The center provides students with caring and timely individual guidance, connection to resources, and help in problem-solving that allows students to reach their full potential as a WCOB major. The WCOB Academic Advising Center is committed to quality academic advising for undergraduate business students. Learn more or make an advising appointment at businessadvising.appstate.edu.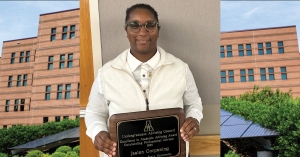 Tags: