William Kamkwamba visits the ASU Wind Turbine during the 2013 Global Opportunities Conference.
The Fifth Annual Global Opportunities Conference took place Friday, April 12, 2013
After a cancelled flight and a speedy trip up the mountain from Greensboro, William Kamkwamba, co-author of New York Times bestseller, "The Boy Who Harnessed the Wind: Creating Currents of Electricity and Hope," related his story of how he achieved his dream of bringing electricity, light, and the promise of a better life to his family and his Malawi village. His talk was attended by over 550 students, faculty and community members as well as visiting classes from Watauga and Avery High Schools and Two Rivers Charter School.
During the morning session, Jeff Ramsdell of the Appalachian State University Energy Center, spoke on developmnt in Africa and the important role of alternative and renewable energy and students from the Walker College of Business shared their experiences in Malawi, Africa. A multidisciplinary panel discusses Creative Solutions for Development in Africa at the afternoon luncheon. A book signing by William Kamkwamba took place at 2pm.
Eya! Afrolachian drumming entertained participants with their performance of traditional African music played on the balaphon, djembe, and djun-djun from Guinea and Mali.
The Student Entrepreneur of the Year award was presented by Dr. Heather-Dixon Fowler to Wade Montgomery.
The 2013 conference was co-sponsored by the Walker College of Business and Transportation Insight Center for Entrepreneurship, with additional sponsorship provided by the Goodnight Family Sustainable Development Program, the Department of Geography and Planning, and the University Forum.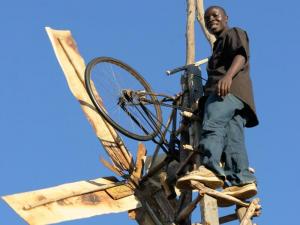 Tags: