The Appalachian Online recently posted about how students and community members on the campus of Appalachian State University celebrated International Education Week.
This annual weeklong event is a joint initiative between the U.S. Department of State and the U.S. Department of Education, and is hosted by universities and K-12 schools across the country. The planning of this event at App State was headed up by the Office of International Education and Development, which worked alongside student clubs and organizations to arrange a variety of activities and workshops throughout the week.
On Friday morning, the Walker College of Business hosted a fair for international internships and study abroad opportunities. A panel of former interns and faculty discussed their work and cultural experiences abroad, as well as the process for pursuing internships through AIESEC and semester-long faculty-led trips.
Veronica Lozano-Toub, associate director of the BB&T Student Leadership Center, said that she likes to support study abroad opportunities for students.
"I really believe in the value of this international experience, because I've experienced it myself," she said. "The value goes beyond academic credit."
Haley Hansen, Vice President of Outgoing Talent at AIESEC Appalachian, discussed internship opportunities available through AIESEC and the application process.
Students such as Destiny Rider, who recently completed an internship in Argentina, and Larissa Niederer, who interned in Germany, gave advice from their experiences. Their main advice was to be adaptable, be confident and to stay calm when things don't go as planned.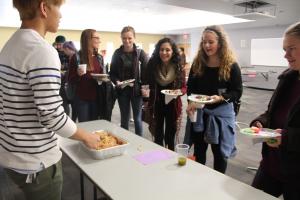 Tags: