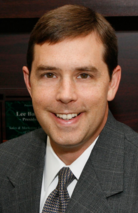 Lee Barnes is the president and director of M.M. Fowler Inc. Before that he was a sales development representative for Shell Oil Company. He is a member of Appalachian State University's Board of Trustees, a thirteen-member body that promotes the development of the institution within the functions prescribed by the UNC Board of Governors and advises the Chancellor concerning the management and development of the university.
Barnes' philanthropy to the university began as a senior when he contributed $100 to the "buy a brick" campaign in support of construction of Raley Hall, home to the business college. Barnes continued to contribute to the university, expanding his support of the business college and contributing to Appalachian athletics.
Barnes, along with his wife, Christy, established the Duane D. Daggett Endowed Professorship in the Walker College of Business in 2008, the university's only professorship established by an alumnus in honor of a faculty member. The professorship is awarded to an outstanding faculty member in the Walker College of Business Department of Management.
In 2012 he founded the Lee Barnes Scholars Program at Appalachian, to support students who have financial need, and whose high school record demonstrates significant accomplishment and high academic achievement.
Barnes is a member of Kappa Alpha Order, which he joined the as a first-semester freshman at Appalachian. Barnes graduated from Appalachian in 1990 with a degree in business administration. He has a master's degree in business administration from the Fuqua School of Business at Duke University.