Forty Appalachian State University students and one professor were inducted to Beta Gamma Sigma on Friday, November 13, 2020.
Membership in Beta Gamma Sigma is the highest recognition a business student anywhere in the world can receive in an undergraduate or master's program at a school accredited by AACSB International – the Association to Advance Collegiate Schools of Business.
The student inductees, listed below, are business majors or candidates for graduate degrees in business from the Walker College of Business, which has housed a chapter of Beta Gamma Sigma for 43 years.
Related: Academic year marks 40th anniversary for Appalachian's Beta Gamma Sigma honor society
Masters

Connor Bowers
Christian Childs
Maira Compagnone
Jonathan Huggins
Megan MacDonald
Kyle McMearty
Muhammad Pervaiz

Seniors

Wendell Addy
Samuel Crouse
Madison Grinsted
Joshua Lail
Obadja Ludwig
Zoe McDaniel
Patrick Osborne
Jessica Price
Willard Robinson
Andrew Smythers
Casey Soles
Bradley Wilkes

Juniors

Noah Bilodeau
Madison Browne
Danielle Carter
Kaylee Combs
Audrey Emerson
Lauren Frazier
Luke Halodik
Jordan Kota
Veronica McCurdy
Maddisen Robinson
Christina Schwendig
William Scott
Jonathan Slater
Joshua Sweeny

Sophomores

Cassidy Allen
Brandy Crump
Samuel Gagnon
Nicholas McAllister
Jessica Murray
Nicole Tiseo
Andrew Williard
Assistant professor of computer information systems, Dr. Jason Xiong, was also inducted.
Learn more about student organizations and honor societies offered in the Walker College of Business at business.appstate.edu/clubs. For more information about the Beta Gamma Sigma induction, please email Kathy Mann, mnnks@appstate.edu.
About Beta Gamma Sigma
Founded in 1913, Beta Gamma Sigma is the international business honor society for AACSB-accredited schools, which are the top 5% of business school programs around the world. Inducted as students, BGS members go on to serve in critical leadership roles in corporate, entrepreneurial, government, non-profit, and academic sectors. Members currently reside in all 50 U. S. states and more than 190 countries. Notable members include Nobel Prize winners, Olympians, inventors, CEOs of major global companies and nonprofit organizations, deans of the top business schools, and others who are making the world a better place at all levels of contribution through social enterprise, service and leadership.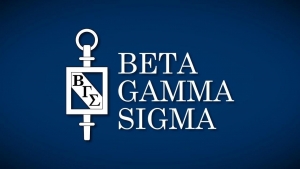 Tags: