Patrick Holden '19 majored in marketing at Appalachian State University with a concentration in professional selling.
Today, Holden is a sales consultant at cloud-based software organization, Paycom, in the Miami/Fort Lauderdale, Florida area.
At Appalachian, Holden knew he wanted to be in sales, but, until he attended the International Collegiate Sales Competition (ICSC), he didn't know what company he'd serve.
"I always wanted to be in a people-facing career," said Holden. "I was interested in the psychology as well as the growth opportunities with the end goal of helping people."
While on site at the competition with his fellow Appalachian students, Holden landed an internship with Paycom.
Related: Marketing students compete in national collegiate sales competition
"It was a very hands-on internship," said Holden of his internship experience. "The 10 weeks felt like 2 years of experience! Everything about the sales process was integrated into my time there, and I had the opportunity to build an incredible network and work with very talented professionals."
Holden emphasized that the opportunity to grow personally and professionally through his internship was key in preparing him for his career.

Appalachian students routinely benefit from competitions and conferences. Marketing sales students compete annually at the ICSC and the National Collegiate Sales Competition (NCSC).
About the Department of Marketing
Students earning a BSBA degree in marketing at Appalachian State University may select sales marketing, digital marketing or general marketing as a concentration of study. All marketing students learn to drive industry initiatives that develop customer satisfaction and retention, contribute to company profits, and build connections with suppliers, distributors and the community. Students gain hands-on experience by identifying problems, developing plans and implementing effective marketing programs. Learn more at marketing.appstate.edu.
Emma Spear
BOONE, N.C.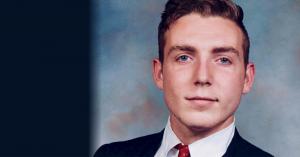 Tags: