Undergraduate and graduate students at Appalachian State University can now choose to participate in a sustainability-focused data analytics team to help solve human resource science (HRS) management challenges.
The HRS Sustainability Team works on research projects to investigate correlations between sustainable business practices and positive work environments. This work is intended to push industry forward and demonstrate the need for HR professionals to promote sustainable practices within their organizations. Learn more.
Led by cross disciplinary team advisors — Professor of Psychology Shawn Bergman and Professor of Management Jim Westerman — the team began initially formed in fall 2019.
There are seven current members: M.A. I-O Psychology and HR Management (IOHRM) students Nicolas Simard and Andrew Webb, dual-degree IOHRM and MBA students Braxton Lee and Teague Vreeland, and undergraduate psychology majors Mackenzie Law, Erik Medeiros and Madison Sexton. Read their bios.
Past projects include:
A look into the relationship between ESG scores and organizational outcomes HRM, which they virtually presented about at RCIO, an Industrial/Organizational psychology conference based out of Chattanooga, TN. The students concluded that organizations with more sustainable business practices will see positive HRM outcomes.

A look into the relationship between environmental, social and corporate governance (ESG) scores as they relate to HRM organizational outcomes. This preliminary research was presented virtually at RCIO, an Industrial/Organizational psychology conference based out of Chattanooga, TN. This work supports the hypothesis that organizations with more sustainable business practices will see positive HRM outcomes.

A review of Hines, Daniel and Bobilya's Sustainable Practices and Thought in the Eastern Band of Cherokee Indians. According to the team, "Overall, the Eastern Band of Cherokee Indians have shown both a commitment to a restoration of more traditional attitudes and practices regarding the environment, as shown by the Ecopsychology journal article, and have acted on this commitment, highlighted by the actions taken in recent years dedicated to reforestation, renewable energy, and the reintroduction of indigenous but lost species."
Join the HRS Sustainability Team
In effort to cultivate diversity of thought within team projects and discussions, the HRS Sustainability Team is recruiting from all App State departments and majors, including the sustainable development and sustainable technology programs. Those interested in learning more or joining the team should contact recruiting coordinator, Madison Sexton, sextonm@appstate.edu, or incoming team leader, Teague Vreeland, vreelandtm@appstate.edu.
About Sustainable Business at Appalachian
Appalachian's Walker College of Business is committed to advancing sustainable business practices that promote responsible management of economic, social and natural resources. The theory and practice of sustainable business recognizes that the economy, environment and society (the triple bottom line) are interconnected and interdependent, and strives to enhance the business model so that it can flourish and thrive to benefit future generations. The college offers a sustainable business minor available to business and nonbusiness majors, a bachelor's degree in environmental economics and policy, and an MBA concentration in sustainable business. The programs focus on student engagement, research and community involvement. For more information, visit www.business.appstate.edu/sustainability.
About student research in the Walker College of Business
Given the speed by which the world changes, students must develop the ability to constantly adapt. While the traditional classroom setting plays an important role, it must be complemented with a diversity of other approaches that more fully develop students' adaptive capabilities and enhance readiness for an ever-changing world. To reach this goal, the Walker College supports project-based applied research and learning opportunities through partnerships with external entities, encourages research collaboration across departments, campus and other institutions, and promotes student involvement in faculty-led research. Learn more at business.appstate.edu/students/research.
About Appalachian's IOHRM Program
Appalachian's Industrial-Organizational Psychology and Human Resource Management (IOHRM) program offers an interdisciplinary Master of Arts degree through the Departments of Psychology in the College of Arts & Sciences and Management in the Walker College of Business. Students receive specialized training in human resource management with emphases on developing knowledge of theories, methods and research findings derived from the behavioral sciences. The degree prepares graduates for work in business, industry and government, where they will address organizational activities such as selection, placement and motivation of employees, training and development, performance appraisal, and development and change of organizations. Learn more at iohrm.appstate.edu.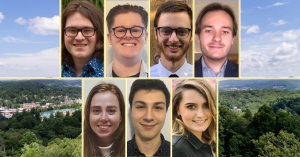 Tags: