Appalachian State University alumnus Jesse Pipes is one of 25 business school graduates across the globe honored by AACSB International (AACSB)—the world's largest business education alliance—as the 2020 Class of Influential Leaders. The annual challenge recognizes notable alumni from AACSB-accredited schools whose inspiring work serves as a model for the next generation of business leaders.
Pipes is a senior lecturer in the Department of Management in the Walker College of Business at Appalachian, where he teaches entrepreneurship, leadership and systems thinking.
Pipes is passionate about business as a force for good and believes in the power of design thinking to find solutions to the world's most vexing problems. His teaching prepares and inspires students to use their skills and creativity to build a better world through business.
Pipes' mission to prepare students as positive change-makers is an outgrowth of his own personal path. As co-founder, board member and former executive director of World Camp, Inc. - now known as Access Health Africa (AHA) – Pipes brings more than 15 years of experience in the non-profit sector to the classroom. In Malawi, Africa, Pipes saw first-hand the critical need for better healthcare for its citizens. AHA, a non-governmental organization, provides public health education in the school system as well as training and supplies for local medical staff to help address the lack of access to much-needed health services in one of the poorest countries in the world. Through his work as a business analyst and operations design specialist at the planning and design firm, Destination by Design, as well as through experience working with Moku Zoku, an alternate reality gaming start-up, Pipes honed his design-driven approach to problem-solving and entrepreneurship.
Learn more about why Pipes is an influential leader.
"Jesse is helping our students apply the concepts learned in the classroom to real-world problems," said Walker College of Business Dean Heather Norris. "Solving social issues and transforming students' world views is how we're teaching business for good at Appalachian."
"It is our privilege to amplify the stories of business school graduates like Jesse, who are serving as a force for good in the world," said Tom Robinson, AACSB president and CEO. "Appalachian prepares its graduates to lead with enthusiasm and dedication and Jesse's inspirational achievements are to be celebrated."
Now in its fifth year, the Influential Leaders challenge has recognized more than 200 business school graduates for creating lasting impact on business and in society.
Sarah Green Freed, a 2009 Appalachian graduate, was named an AACSB Influential Leader in 2016.
Related: AACSB honors alumna Sarah Freed for changing the world
All honorees have earned an undergraduate, graduate or doctoral degree from one of the more than 850 AACSB-accredited business schools worldwide. For more information on the Influential Leaders challenge, and to view a full list of honorees, visit aacsb.edu/influential-leaders.
###
About AACSB International
Established in 1916, AACSB International (AACSB) is the world's largest business education alliance, connecting educators, learners, and business to create the next generation of great leaders. With a presence in more than 100 countries and territories, AACSB fosters engagement, accelerates innovation, and amplifies impact in business education. Learn how AACSB is transforming business education for a better society at aacsb.edu.
About the Walker College of Business
The Walker College of Business at Appalachian State University delivers transformational educational experiences that prepare and inspire students to be ethical, innovative and engaged business leaders who positively impact our community, both locally and globally. The college places emphasis on international experiences, sustainable business practices, entrepreneurial programs and real-world applications with industry. Enrolling approximately 3,000 undergraduates in 10 majors and 175 graduate students in three master's programs, the Walker College is accredited by AACSB International – the premier global accrediting body for schools of business. Learn more at business.appstate.edu.
About Appalachian State University
As the premier public undergraduate institution in the state of North Carolina, Appalachian State University prepares students to lead purposeful lives as global citizens who understand and engage their responsibilities in creating a sustainable future for all. The Appalachian Experience promotes a spirit of inclusion that brings people together in inspiring ways to acquire and create knowledge, to grow holistically, to act with passion and determination, and to embrace diversity and difference. Located in the Blue Ridge Mountains, Appalachian is one of 17 campuses in the University of North Carolina System. Appalachian enrolls more than 19,000 students, has a low student-to-faculty ratio and offers more than 150 undergraduate and graduate majors. Learn more at appstate.edu.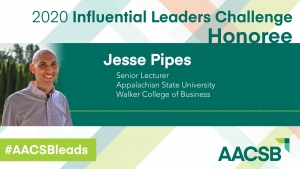 Tags: