The Appalachian Scholarship Application Portal is open for scholarships for the 2023-24 academic year.
All currently enrolled students who will also be enrolled for fall 2023 should apply by the Feb. 7 deadline to be considered for the bulk of available university, departmental and major-specific scholarships.
Apply Online Now
Find the link in your AppalNet account (Student Services tab) or visit asap.appstate.edu and log-in with your App State username and password to complete your application.
Business students who have questions or need assistance, should contact Kathy Mann at mnnks@appstate.edu, or for technical assistance with the application portal, please contact scholarships@appstate.edu.
About Scholarships at Appalachian and the Walker College of Business
Each year, App State awards more than $4 million to students based on need and academic achievement to help make education even more affordable for all students. Scholarships are available to incoming first-year and transfer students and continuing undergraduate and graduate students. Learn more about scholarships at App State. Approximately 15% of these funds, or $600,000 are awarded annually through the Walker College of Business. The number of scholarships and amounts awarded vary each year and are subject to funds available. Scholarship amounts range from $250 - $8,000 per year, and some are renewable. Learn more at business.appstate.edu/students/scholarships.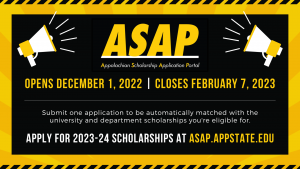 Tags: