The Walker College of Business at Appalachian State University held its third annual Business for Good summit September 8, 2017. The summit's purpose is to show how sustainable business practices relate to us all and makes good business sense.
The daylong summit was held at Chetola Resort in Blowing Rock and featured keynote speakers: Sarah Lewis, managing director of members and implementation at The Sustainability Consortium; Andrew Hutson, senior director at the Fishery Solutions Center, the Environmental Defense Fund; Bob Inglis, six-term U.S. House of Representatives and executive director of republicEN, Roian Atwood, director of Sustainability VF Jeanswear; and Philip Henson Sr., manager of Energy & Environmental Sustainability Hanesbrands.
The event also featured "lightning round" talks from Kelsey Simon on Net Impact Club International Food Solutions Challenge; Zak Ammar on Vixster; Erich Schlenker on Impact Clinic; and Mark Lewis on AppLab.
Related: AppLab 3.0 kicks off with IBM Design Thinking workshop
The event concluded with a keynote speech from Bobby Kennedy Jr. at a reception at the Dunston residence in Blowing Rock. The High Country Press covered Kennedy's speech, and detailed the event in a recent post at hcpress.com.
Kennedy mentioned that the public is constantly told that they have to choose between economic prosperity and environmental protection.
"That's a false choice in 100 percent of the situations. Good environmental policy is identical to economic policy," Kennedy said. "If we want to measure our economy – and that's how we ought to measure it – based upon how it produces jobs and dignity over the generation, over the long term and how it preserves the value of assets in our communities...."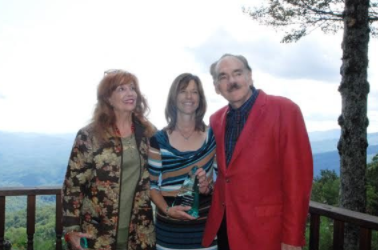 At the reception, Jim Westerman Appalachian's director of Sustainable Business, announced the recipients of the 2017 Green E Award.
Related: Norris earns inaugural Green-E Award
Dr. Tammy Kowalczyk, a professor at Appalachian State, and Leigh and Pam Dunston, are this year's Green E Award recipients. Westerman noted that Kowalczyk and the Dunstons have advanced the mission of sustainability at Walker College and the entire Appalachian State campus.