Sixteen Walker College of Business professors will present their recent research during a Dean's Club research poster session in Peacock Hall on Thursday, October 25.
The posters will be available for viewing from 10:00 a.m. until 2:00 p.m. in the second floor Boyles Lobby and Broyhill Commons in Peacock Hall.
Research from CIS & Supply Chain Management Professors Charlie Chen and Steven Leon; Economics Professors Ash Morgan, Brock Stoddard, David Bruner, Dave McEvoy, and Jayjit Roy; Finance Professor Brandy Hadley; Graduate Professor Lakshmi Iyer; Management Professor Dan Hsu; and Marketing Professors Eva Hyatt, Jeffery Foreman, and Neel Das will be included.
| | |
| --- | --- |
| Authors | Title |
| Steven Leon | An Empirical Analysis of Loyalty: An Investigation into Airline Customer Views |
| Charlie Chen | Building a Virtual Reality-based, Situational Learning System to Increase Privacy & Ethics Awareness |
| Dan Hsu | Business Exits and Reentry: the Regulatory Fit of Serial Entrepreneurship Intentions |
| Steven Leon | Consumer Acceptance of Delivery by Drone: Is it Just Wishful Thinking? |
| Lakshmi Iyer | Do We Have the Power to Change |
| Brock Stoddard | Does Reducing Inequality Increase Cooperation |
| Dave McEvoy | Role of Pledges in Social Dilemmas with Mitigation Adaption |
| Jayjit Roy | Exporting and Pollution Abatement Expenditure: Evidence from Firm-Leveling Data |
| Ash Morgan & Dave McEvoy | Measuring Willingness to Pay for Fair Trade Coffee |
| Lakshmi Iyer | Mining Business Analytics Skills: An In-depth Analysis of Careers in Data Science |
| Neel Das & Eva Hyatt | Organic Product Perceptions in India: Insights into an Emerging Economy |
| | |
| --- | --- |
| Jeffrey Foreman | Perceptions of LGBT Inclusive Healthcare Advertising |
| Charlie Chen | Segmentation of Drone Delivery Services for Non-Student Subjects |
| David Bruner, Dave McEvoy, & Brock Stoddard | Strategic Thinking in Contests |
| David Bruner | Voluntary Provision of Property Rights Under Inequity |
| Brandy Hadley | When CEOs Adapt: An Investigation of Manager Experience, Policy, and Performance Following Recessions |

Contributions from Dean's Club members provide unrestricted support each year for critical needs in the college such as: student scholarships, travel funds for faculty and students to attend course-related conferences and/or visits to corporations, seed money for new programs or opportunities within the college, and resources to bring guest lecturers, such as leaders in business and government, to the classroom. Learn more about the Dean's Club. The research for the posters was funded in part by the Walker College's Dean's Club. The Dean's Club is an annual giving society designed to benefit our students and faculty while enhancing our academic programs.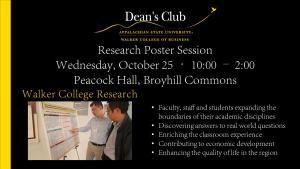 Tags: