Twenty-seven business research projects will be presented at the 2021 Walker College of Business Dean's Club Research Poster Session on Thursday, October 14.
The posters will be available for viewing in the 2nd floor Boyles Lobby of Peacock Hall from 10:00 a.m. until 2:00 p.m. Researchers will be periodically available during this period to answer questions.
Research from the following Walker College of Business faculty will be featured.
Pia Albinsson
Iigim Benoit
Unal Boya
Charlie Chen
Christy Cook
Neel Das
David Dickinson
Dennis Guignet
Onur Ince
Tanya Ince
Scot Justice
Jeffrey Kaleta

Steven Leon
Tanga Mohr
Lubna Nafees
Nik Nikolov
William Northington
Abhijit Ramalingam
Aaron Ratcliff
Brock Stoddard
Jim Stoddard
Jacqueline Tilton
Brian Whitaker
John Whitehead
Jason Xiong





Read the titles of the research papers online, business.appstate.edu/faculty/research/deans-club-grants. The research depicted in the posters was funded in part by the Walker College's Dean's Club, an annual giving society designed to benefit our students and faculty while enhancing our academic programs.
About the Walker College Dean's Club
Contributions from Dean's Club members provide unrestricted support each year for critical needs in the college such as: student scholarships, travel funds for faculty and students to attend course-related conferences and/or visits to corporations, seed money for new programs or opportunities within the college, and resources to bring guest lecturers, such as leaders in business and government, to the classroom. Learn more about the Dean's Club.
About Faculty Research in the Walker College of Business
Walker College of Business faculty produce and disseminate extensive research through both academic and professional communities. In the last five years, faculty members have published approximately 400 peer-reviewed academic journal articles, 130 conference proceedings and made more than 400 conference and professional presentations in 170 different venues. In total, the faculty has produced more than 700 individual intellectual contributions in basic discovery research, more than 400 contributions in applied or integrative research and 240 contributions in teaching and learning research. For more information, visit business.appstate.edu/faculty/research.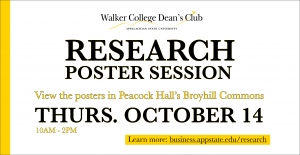 Tags: