This edition of the Walker College of Business Dean's Update is one in a series of monthly publications for Walker College faculty, staff, stakeholders and Appalachian State University community members. Please share your news items for inclusion in this and other publications of the Walker College of Business. For up-to-date information, please check the news section at business.appstate.edu.
While the Boone weather is unpredictable, from Winter Storm Jonas to flash flooding to the promise of sunshine and an early spring, our students can count on high quality instruction and leadership and professional development in Peacock Hall.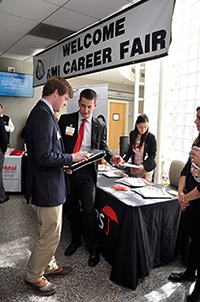 Our faculty, professional staff, and student leaders are actively preparing the business leaders of tomorrow in our classrooms, online, and through special events that supplement the curriculum. For example, the Brantley Risk & Insurance Center and Gamma Iota Sigma will host the RMI Career Fair on February 18, providing valuable networking interaction with the insurance industry.
Our students are eager for these opportunities. Last month's Business Club Expo, hosted by the Walker Fellows, provided students from all backgrounds an opportunity to find their niche. The Walker Fellows organization continues to grow in its purpose and reach. Its work is instrumental in connecting our student body, bridging business disciplines and college (and university) programs. The Fellows' efforts are having a positive impact on our students and community.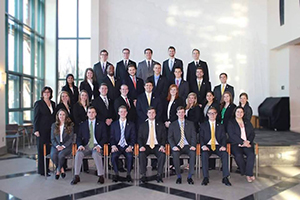 Our faculty members continue to serve our region through innovation. Center for Analytics Research and Education (CARE) Director Joseph Cazier was recently named the UNC General Administration Fellow in Technology Commercialization. In this role, Joseph will create and support a culture of innovation and entrepreneurship by helping to improve the technology commercialization process across the UNC system.
Although our lives are sometimes like our weather - ever changing, complex and unpredictable, I urge you to take time regularly to reach out to your colleagues, friends and family. Birthdays are a great opportunity to engage with others. Join me in wishing a happy birthday to our Walker College faculty and staff members celebrating in February.
February 5: Lisa Wetherell, Academic Advising
February 13: David Bruner, Economics
February 14: Alan Singer, Management
February 16: John Whitehead, Economics
February 18: Dawn Medlin, Computer Information Systems
February 22: Rebecca Kaenzig Hutchins, Accounting
February 24: Josh Silvey, BB&T Student Leadership Center
February 28: Jane Fitchlee, Dean's Office
Heather Norris, Dean
Walker College of Business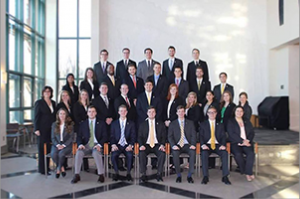 Tags: