Connecting Students to Jobs
The Walker College of Business network is strong. Events like last week's Walker Spring Connect provide the foundation for long-lasting relationships that connect students to jobs. With thousands of Appalachian alumni launching new business careers each year, we're a force of positive change in our communities and in our world. Our college's job placement rates are consistently higher than the national average, and I attribute much of this success to programming like Spring Connect, to internship and job placement support from Business Career Services in our BB&T Student Leadership Center, to the strength of our network, and to the innovative curriculum our faculty develop and deliver.
A Long List of Accolades
Appalachian, along with sister institutions UNC-Chapel Hill and NC State University, recently ranked in the top 30 public colleges for Kiplinger's Best Values. Add this acknowledgement to our long list of honors. In just the past year, we've earned the Kiplinger nod, as well as accolades from U.S. News and World Report, including having been named one of their Best Online Programs; from bestcolleges.com — we were named a top online Bachelors in Business Administration program; and from the Princeton Review, which highlighted the Walker College among its best on-campus MBA schools and named Appalachian to its Guide to Green Colleges. Read more about our recent accolades. Yours is an education worth bragging about.
Business Leaders Magazine
Walker College alumni recently received the 2018 edition of Business Leaders Magazine. Now I invite you to flip through the magazine pages, where you'll see images of students and faculty collaborating across disciplines and industries. The stories within demonstrate how we are preparing students to lead purposeful lives as engaged global citizens who understand their responsibilities in creating a sustainable future for all. These stories reflect how we are using business practices to help make the world a better place, and there are many more stories yet to be written. Let us know when you are making news so we can continue to spread the word of your good work and continue to write OUR story.
Courageous Conversations
On February 1, in support of our core values in the Walker College of Business, our Inclusive Excellence Team (formerly Diversity Advisory Team) led the second annual Courageous Conversations — a candid discussion about respecting differences in the workplace. The event was held in partnership with Kappa Alpha Psi Fraternity, Inc. and Phi Beta Sigma Fraternity, Inc. Participants agreed that valuing diversity is critical to effective global citizenship and key to a greater work experience. I encourage you to continue the conversation and participate in meaningful ways. Contact Jamie Parson, chair of the inclusive excellence team, for ways to engage.
AACSB Accreditation
On January 29 we welcomed three distinguished guests to Peacock Hall. Drs. Bob Albert, Shane Hunt and Hector Quintanilla visited from Morehead State, Arkansas State and Texas Wesleyan Universities, respectively, to review our programs and help us ensure excellence and continuous improvement in all we do. We are proud that we've held accreditation from AACSB — the premier global accrediting body for business schools — since 1976. Our students are why. In the classroom and through co-curricular and community activities, our students and faculty exhibit the passion, innovation and ability to apply business knowledge and make our world better. Thank you!
—Heather Norris, Dean of the Walker College of Business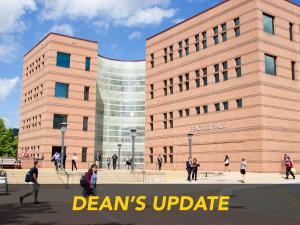 Tags: