This edition of the Walker College of Business Dean's Update is one in a series of monthly publications for Walker College faculty, staff, stakeholders and Appalachian State University community members. Please share your news items for inclusion in this and other publications of the Walker College of Business. For up-to-date information, please check the news section at business.appstate.edu.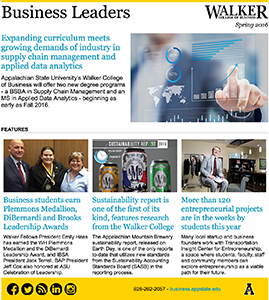 As both the semester and academic year draw to a close, the corridors of Peacock Hall become still. A new group of Appalachian graduates will soon enter the work force, prepared to make a positive difference in business at local and global levels, and at every level in between. Although our faculty are busy finalizing exams and grades, I encourage all Appalachian stakeholders to reflect on the good work that our university, and the Walker College, are doing in the lives of individuals and in our communities. To celebrate our graduates, please plan to attend Friday's 2:30 p.m. MBA Hooding and Awards Ceremony in the Plemmons Student Union, Saturday's 10:30 a.m. Commencement Reception in Peacock Hall, and Saturday's 1:00 p.m. Commencement Ceremony in the Holmes Center.
While it is impossible to name each and every one of this year's many great accomplishments, the college's Spring 2016 newsletter featured articles on new degree programs, students' leadership honors, research in sustainability and student entrepreneurs.
We will offer two new degree programs - a BSBA in Supply Chain Management and an MS in Applied Data Analytics - beginning as early as Fall 2016. Our expanding curriculum is meeting growing demands of industry in these fields and increasing the already-high career placement rates of our graduates.
The college continues to make strides in sustainable business research and teaching. Appalachian Mountain Brewery's sustainability report, released on Earth Day, highlights work from Accounting professor Tammy Kowalczyk and students in collaboration with our community partner. Further, the report is one of the only reports to-date that utilizes new standards from the Sustainability Accounting Standards Board (SASB) in the reporting process.
Many local startup and business founders work with our Transportation Insight Center for Entrepreneurship to launch original business ventures. The center enables students, faculty, staff and community members to explore entrepreneurship as a viable path for their future. There were more than 120 entrepreneurial projects in the works by students in 2015-16.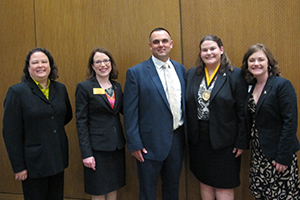 Business students were recently honored for their achievements with university Leadership and Legacy Awards. Walker Fellows President Emily Haas earned the WH Plemmons Medallion and the DiBernardi Leadership Award; International Business Student Association President Jack Terrell earned a DiBernardi Leadership Award, and Beta Alpha Psi President Jeff Cox was honored as top student organization president. Pictured l-r are BAP Advisor Tracy Reed, Dean Heather Norris, Jeff Cox, Emily Haas, and Walker Fellow co-advisor Amy Odom.
The end of the academic year brings opportunity to celebrate not only student achievement, but also faculty and staff excellence. On May 5, our annual Sywassink Day of Excellence dinner honored five award winners for 2016 - named best in research, service, teaching and support work, selected from many distinguished nominees. They are, pictured below l-r, Jeff Hobbs, Excellence in Teaching; Ash Morgan, Excellence in Research; Dave Marlett, Excellence in Research; Richard Mattar, Non-Tenure Track Excellence, and Christy Cook, Staff Excellence. Please join me in congratulating these outstanding faculty and staff members. I appreciate the work of our selection committees in recommending the recipients. The awards have been funded by Mr. G.A. Sywassink for 19 years. Photos from the event, courtesy Sabrina Cheves, can be viewed online Appalachian login required.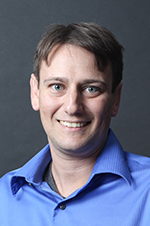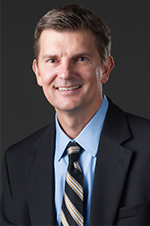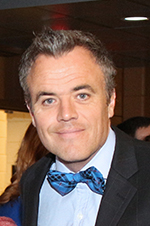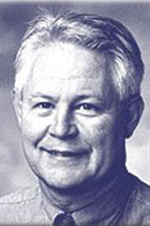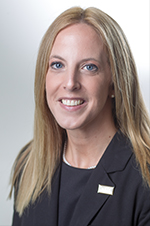 Several faculty members have also earned promotions and/or been granted tenure effective July 1, 2016; congratulations to Robin Byerly, Professor, Management; Heather Dixon-Fowler, Associate Professor/Tenure, Management; Mary Ann Hoffman, Professor, Accounting; Jayjit Roy, Associate Professor/Tenure, Economics; Lynn Stallworth, Professor, Accounting; and Ji Yan, Associate Professor/Tenure, Economics.
Finally, we celebrate several of our faculty and staff members with May birthdays:
May 8: Tim Forsyth, Accounting
May 10: Erich Schlenker, TI Center for Entrepreneurship
May 17: Jacqui Bergman, Management
May 18: Chris Eller, Accounting
May 20: Crystal Brooks, Brantley Risk & Insurance Center
It is my sincere hope that those in our community who are planning vacations to enjoy restful summer months, and while I believe physical and emotional breaks are important to good health and wellness, I realize many will work and serve throughout the Boone summer. Our Martha Guy Summer Institute, led by Ms. Barbara Rule, will welcome 24 aspiring business leaders to campus to learn about leadership July 10-30. Barbara, along with Brantley Assistant Director Greg Langdon, will also prepare curriculum for our Business Exploration Residential Learning Community, which helps freshmen create connections and utilize Walker College resources. BB&T Student Leadership Center Executive Director Michelle Boisclair will continue to serve as faculty in residence on campus. Heather Dixon-Fowler and Jim Westerman will lead a team planning the second annual Business for Good event, scheduled for Friday, August 19. Service continues. Research continues. Teaching continues. Our students learn, and our community grows.
Heather Norris, Dean

Walker College of Business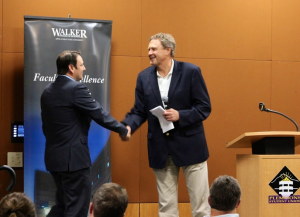 Tags: