Dr. Randy Edwards ACC '77 MSA '78 is one of Appalachian State University's longest-serving leaders.
Dr. Edwards is also a Walker College Dean's Club member and a proud supporter of Appalachian State University.
Here's why Dr. Edwards gives to the Dean's Club:
"Margaret and I consider it an honor to be able to support the Dean's Club. We have had the privilege of seeing Dean's Club scholarships provide much-needed financial assistance for many deserving Walker College students over the years. The Dean's Club is a great way to provide scholarship support for students and also a high-quality education for all Walker College students."
About the Walker College Dean's Club
Contributions from Dean's Club members provide unrestricted support each year for critical needs in the college such as: student scholarships, travel funds for faculty and students to attend course-related conferences and/or visits to corporations, seed money for new programs or opportunities within the college, and resources to bring guest lecturers, such as leaders in business and government, to the classroom. Learn more about the Dean's Club at business.appstate.edu/give/deans-club.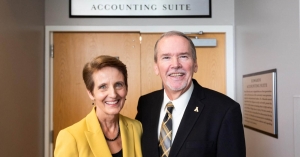 Tags: