Four Appalachian State University business students and four faculty members have earned awards from the Walker College of Business for outstanding international engagement.
The awards were presented during the college's fifth annual international awards ceremony and luncheon on Appalachian's campus Nov. 8.
"I'm so proud of you for taking advantage of these opportunities," said Walker College Dean Heather Norris, who welcomed luncheon attendees. "You are our future, and—by expanding your horizons, you're expanding ours—making the world a better place for all of us."
Dr. Jesse Lutabingwa, Appalachian's associate vice chancellor of international education and development, also addressed the crowd when he shared an update on the university's work in developing a new global engagement strategic plan. "We are expanding our education abroad; providing opportunities on campus for students to experience global flavors within courses and activities taking place on campus; increasing the number of international students who visit and study at Appalachian; expanding participation in research and creative endeavors (and removing barriers to this work); and raising support for our students to study abroad."
Student Awards
Outstanding International Business Major Award: Patrick Schwarz
Patrick Schwarz earned the Outstanding International Business Major award in recognition of exceptional academic success and remarkable international engagement. Schwarz is an international business and accounting double major and a Chinese and gender, women and sexuality studies double minor. Originally from Greensboro, Schwarz speaks Chinese and Hebrew and began traveling while in high school. He aims to help other high school students travel abroad and wants to continue advocating for cultural learning in the future.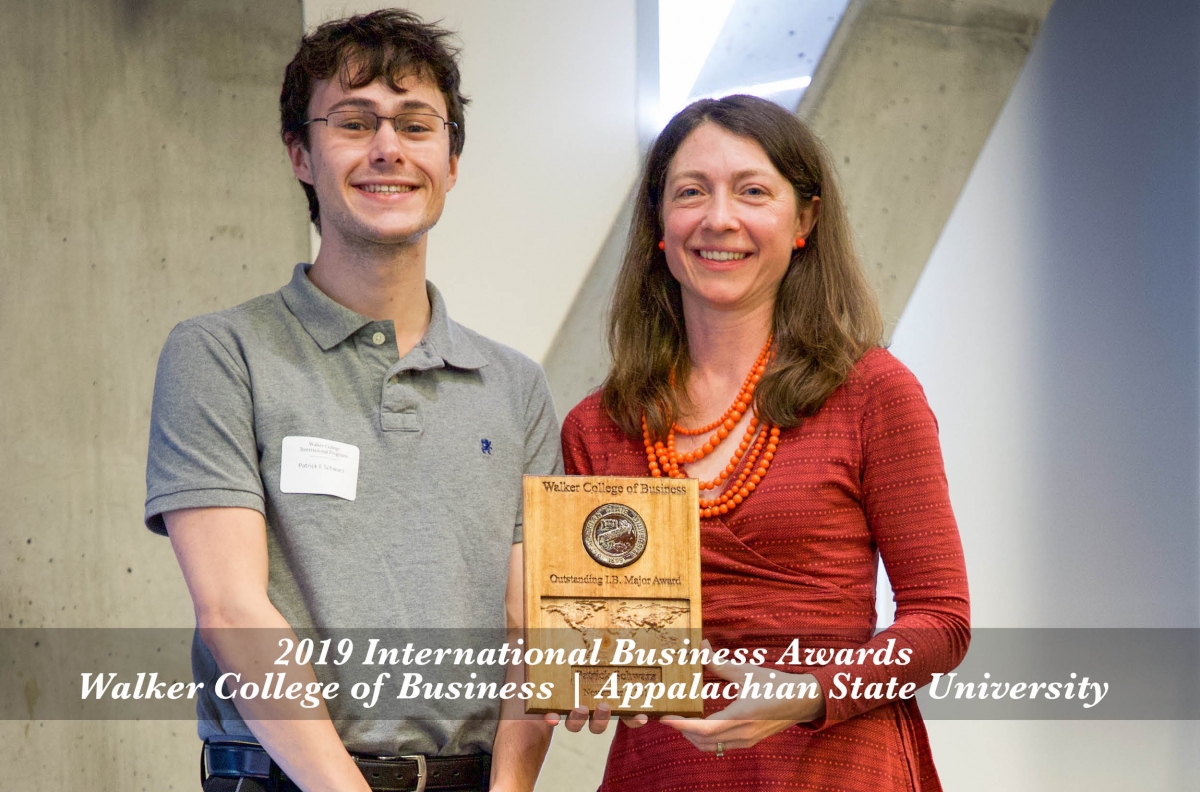 Outstanding International Business Minor Award: Benjamin Tiffany
Benjamin Tiffany earned the Outstanding International Business Minor Award In recognition of exceptional academic success and remarkable international engagement. Originally from Raleigh, Tiffany is a finance and banking major and an international business minor who participated in the 2019 Angers Summer Business Program in France.
"Being fully immersed and present allowed me to have meaningful interactions with students and the community abroad," said Tiffany.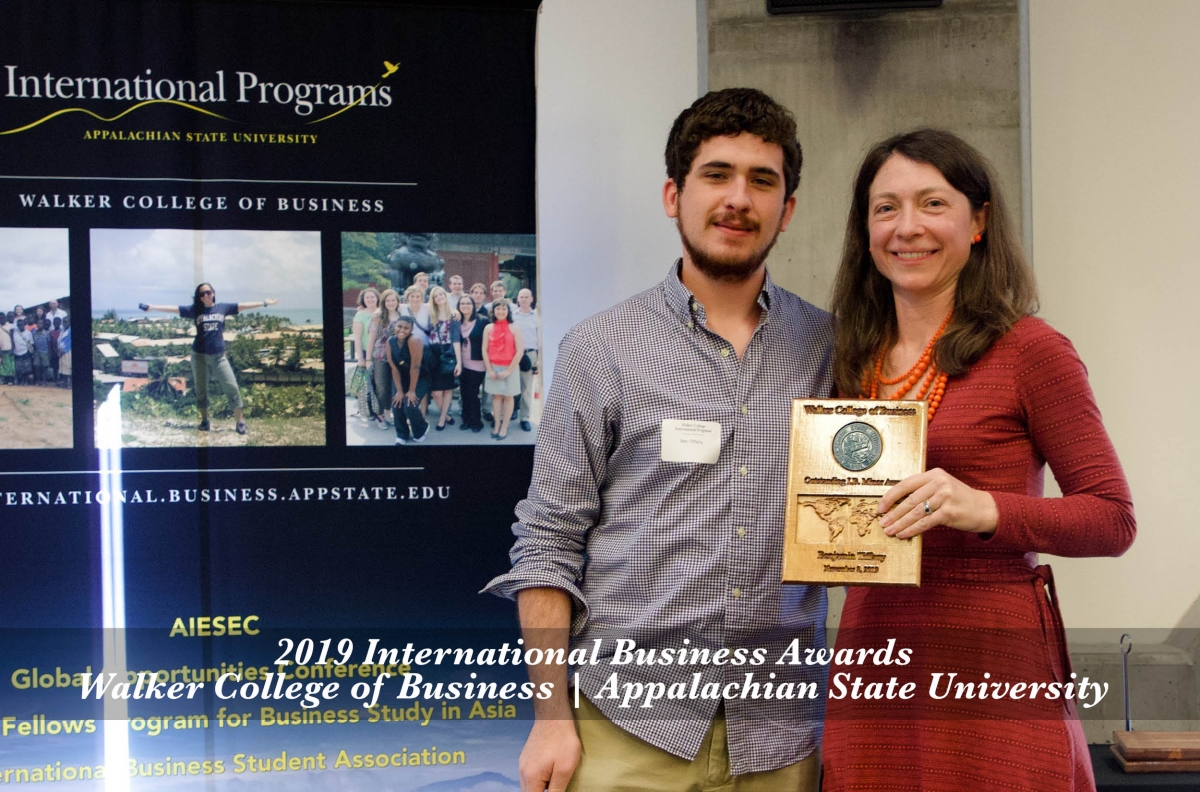 Faculty-Led Most Valuable Participant Award: Roberto Sibrian
Risk management and insurance and supply chain management double major Roberto Sibrian earned the Faculty-led Program MVP Award in recognition of his outstanding intercultural awareness, engagement and global perspective. Having participated in the inaugural Supply Chain & Analytics Program in India the summer of 2018, he stood out for his professionalism, impressing the host university faculty, fellow students and company executives in India. During his experience, Sibrian earned an invitation to study abroad at Kristu Jayanti for a semester. Sibrian is a native of Carrboro, North Carolina.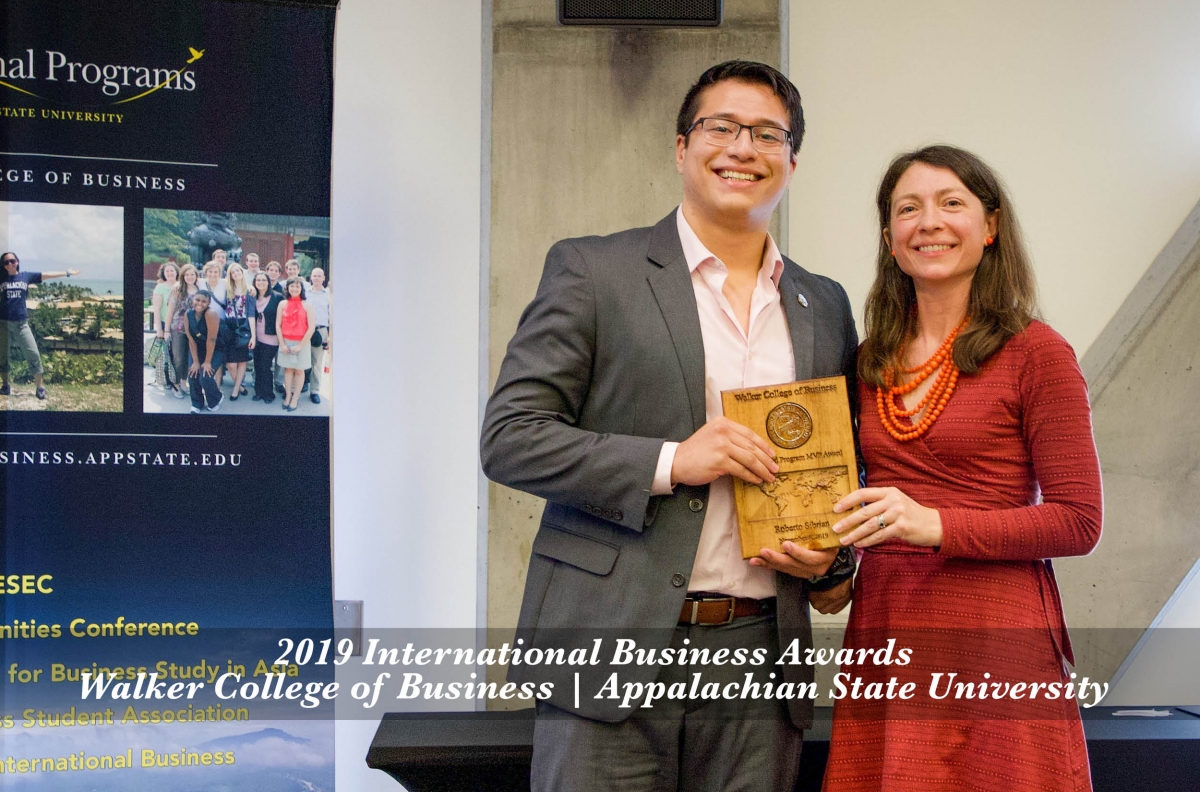 Global Citizen Award: Laura Harkleroad
International business and supply chain double major and Spanish minor Laura Harkleroad of Swansboro, North Carolina earned the Global Citizen Award in recognition of having established meaningful connections with the international community while abroad.
"Think about a map and all the boundaries that we as humans have created to divide us," said Harkleroad. "I have never been a person to limit myself by boundaries or to think within the confines of borders set by society."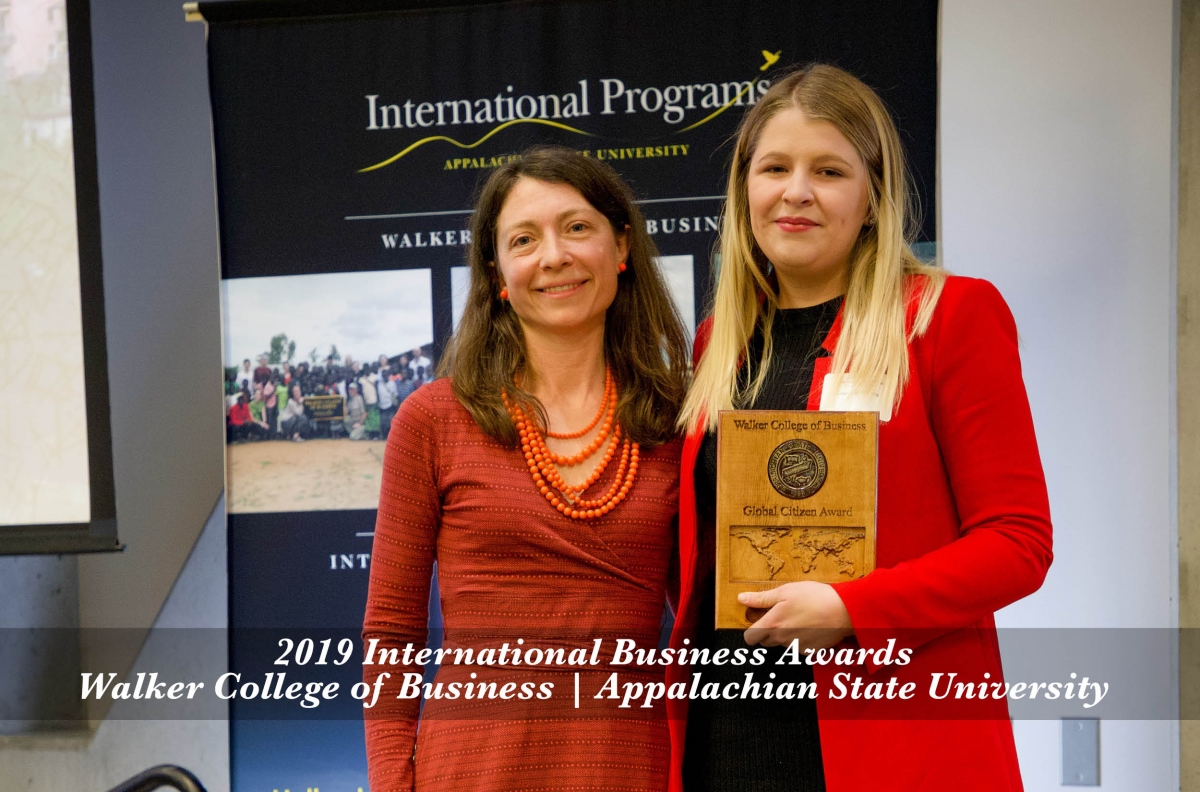 The student awards were presented by Meredith Church Pipes, Global and Civic Engagement Specialist for the Walker College of Business.
Faculty Awards
Outstanding Faculty-led Program Leader Award: Michael Young
Dr. Michael Young received the Outstanding Faculty-led Program Leader Award in recognition of remarkable leadership, global mindset and cultural depth of knowledge. Dr. Young is an associate professor in the Department of Management who joined the faculty at Appalachian in 2017 from Hong Kong Baptist University, where he had served as an associate professor since 2006. According to a student nominator, Young "highlighted the complexity of the country and culture visited."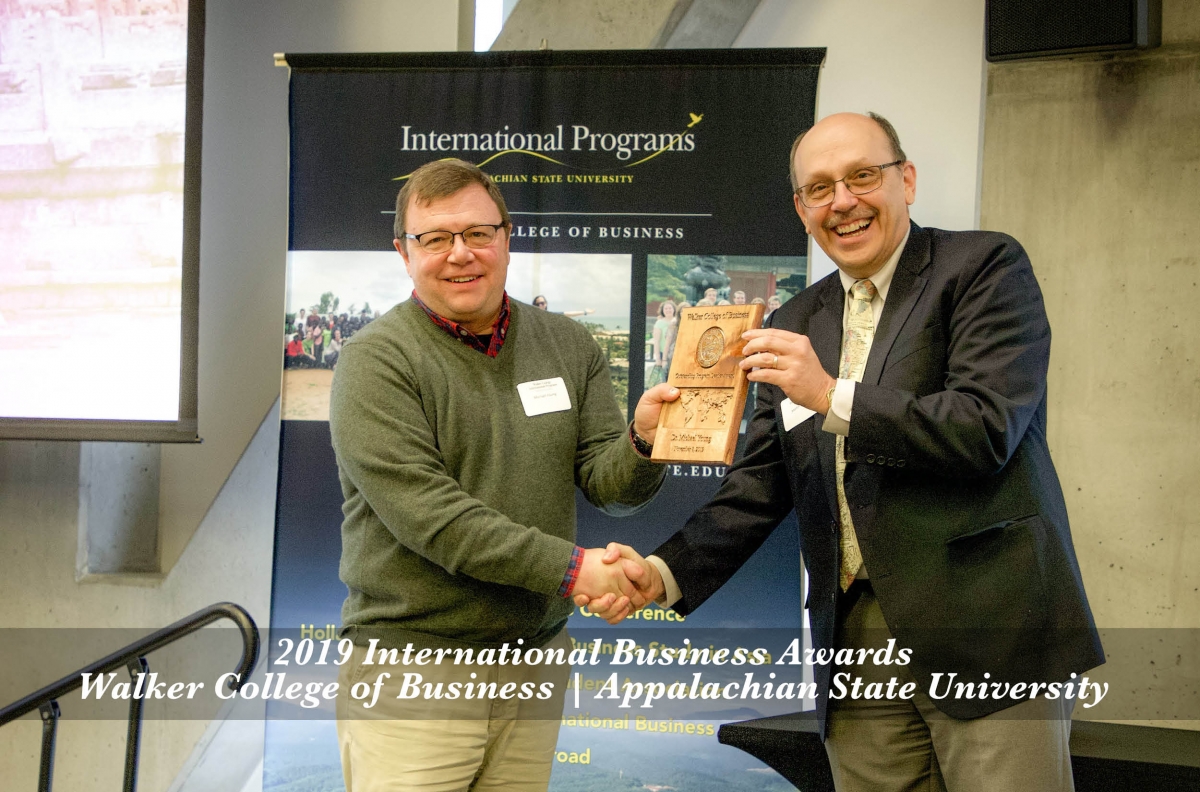 Global Engagement Award: Charlie Chen
Dr. Charlie Chen earned the Global Engagement Award in recognition of innovative and enthusiastic global engagement in teaching, service and research. Dr. Chen collaborates with many international scholars and has published 66 journal articles and 3 textbooks, and has delivered 53 conference presentations relating to global issues.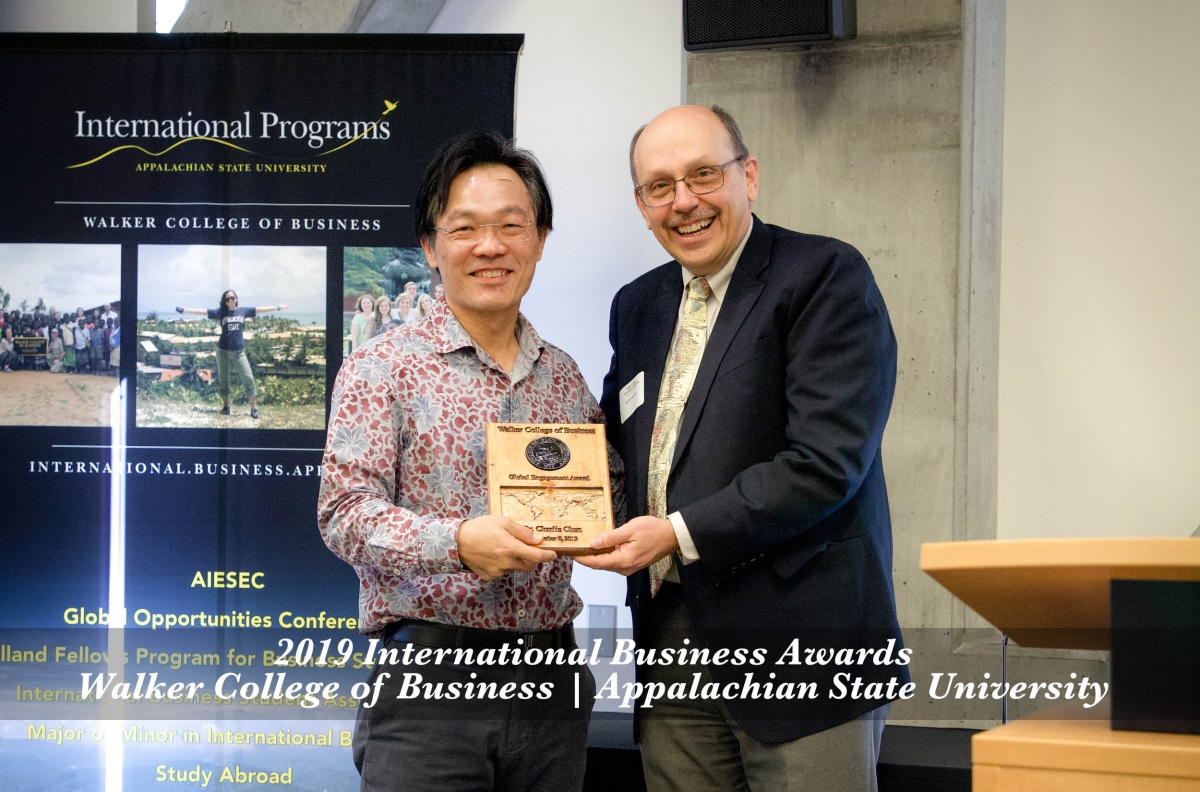 Inspiring International Leaders Award: Sandra Vannoy
Dr. Sandra Vannoy earned the Inspiring International Leaders Award in recognition of inspirational international leadership. Dr. Vannoy, who is associate dean of graduate programs and research in the Walker College, was praised for presenting a global mindset and pursuing knowledge oneself while caring for students.
"Dr. Vannoy has been an inspiration in her commitment to colleagues, students and families of the college and university," said a nominator.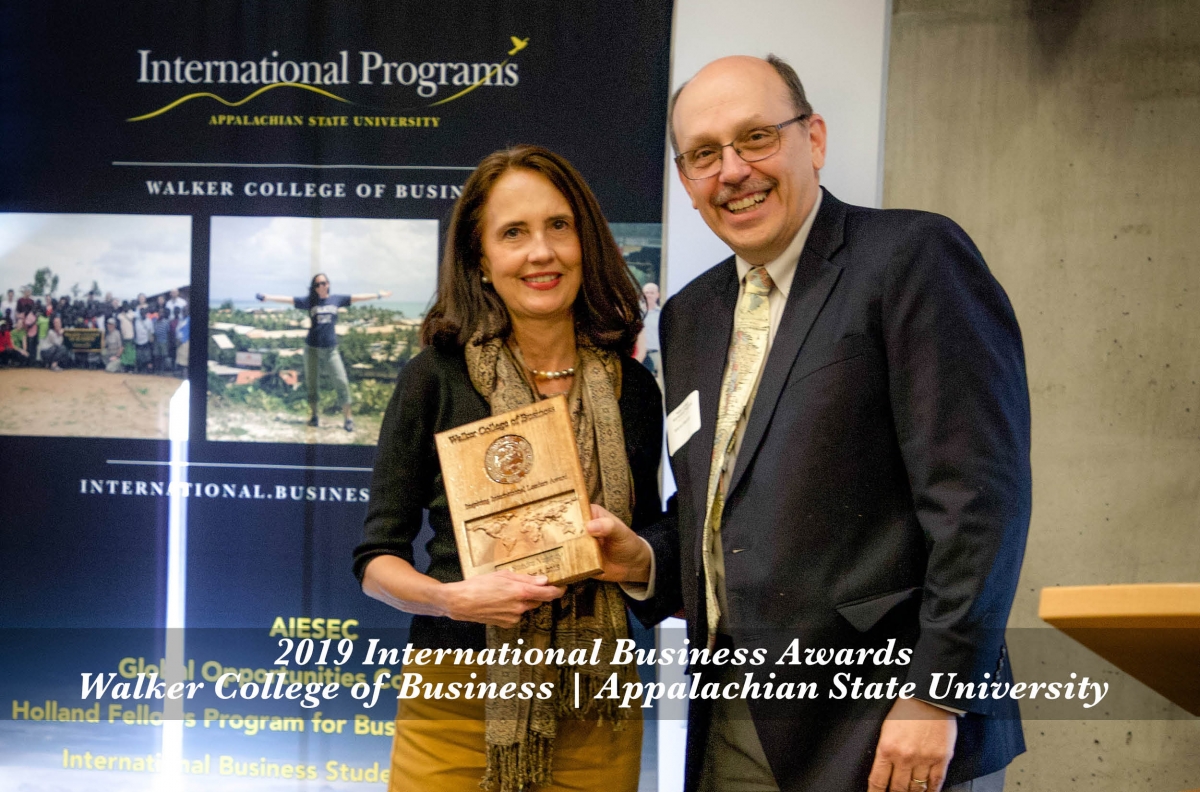 International Cultural Ambassador Award: Nana Vezi-Magigaba
Dr. Nana Vezi-Magigaba, a visiting professor from the University of Zululand (Unizulu) in South Africa who is teaching social entrepreneurship at Appalachian this semester, was presented with the Intercultural Ambassador Award.
Dr. Vezi-Magigaba said that Appalachian is building bridges to the rest of the world. "There should be no boundaries when it comes to education," she said. "It is our duty to expose students to other cultures and languages as no country will survive without the help of others."
Dr. Vezi-Magigaba also encouraged students to learn other languages, and "when tasks are assigned, do them with enthusiasm and 100% effort."
The faculty awards were presented by Martin Meznar, Associate Dean for Global and Civic Engagement for the Walker College of Business.
All award winners earned hand-crafted plaques, as well as travel bags, passport holders and gift cards from community partner, Stick Boy.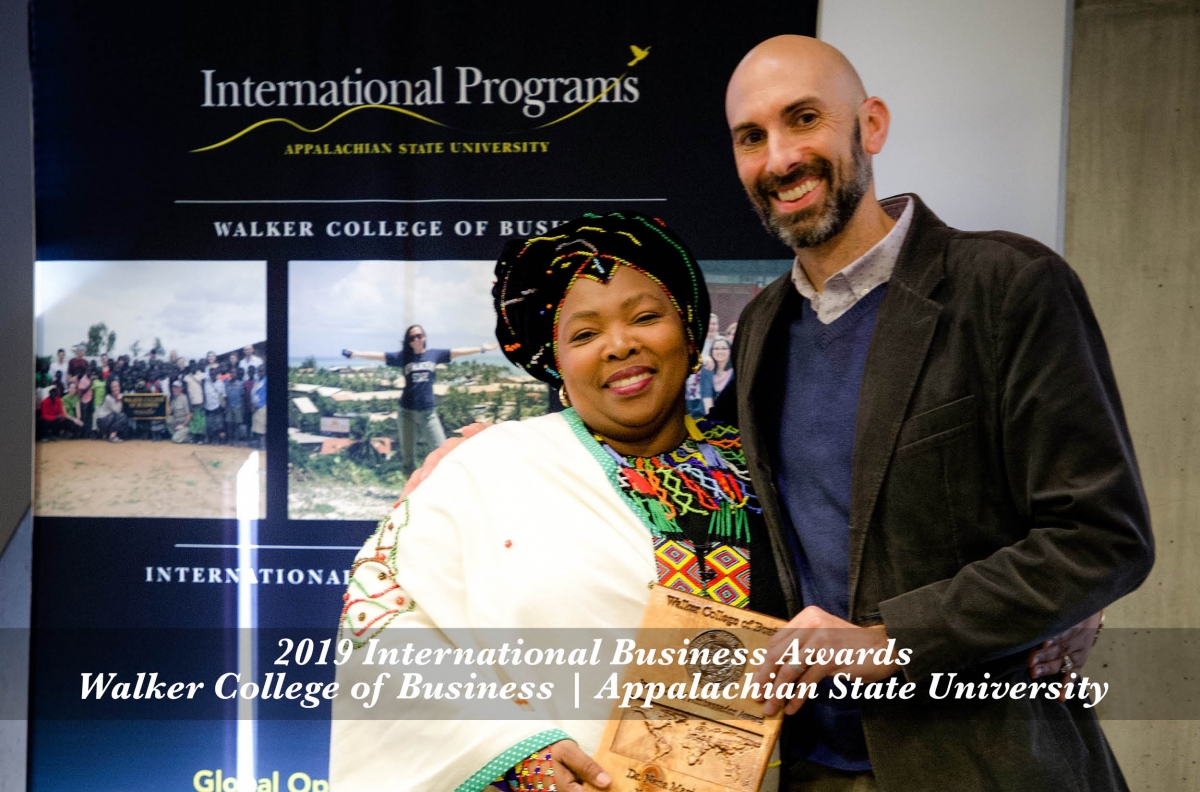 #WalkerAbroad Photo Contest
The awards ceremony also provided a forum to announce the winners of the fall 2019 #WalkerAbroad photo contest. Faculty, staff and student participants in Walker College faculty-led programs, semester abroad or international internships were invited to share images from their travels. The top entries were:
First place: "Endless Lanterns" in Tokyo, Japan by Sonoma Dixon (Supply Chain Management, Semester at Sea, Japan)
Second place: "Myanmar Sunset" in Old Bagan by Sonoma Dixon (Supply Chain Management, Semester at Sea, Myanmar)
Third place: "3 happy camels resting on the beach of Asilah" in Morocco by Nancy Saldana (Computer Information Systems and Spanish; Appalachian Exchange Program at Universidad Pablo de Olavide in Seville, Spain)
Fourth place: "The beautiful canals and a gondolero on the gondola" in Venezia, Italia by Jasmine Uresti (International Business Major with a minor in Spanish; Universidad Europea de Valencia)
People's Choice: "Tea Plantation" in Munnar, India by Vanessa Arellano (Supply Chain Management; Global Supply Chain and Analytics; Kristu Jayanti College; Bangalore, India)
View our winning #WalkerAbroad photos at business.appstate.edu/walkerabroadwinners. View all event photos at business.appstate.edu/photos.
November 18, 2019
By Sarah Huffman
BOONE, N.C.