According to a recent post from Appalachian State University, five Appalachian leaders received W.H. Plemmons Leadership Medallions during the "2017 Celebration of Leadership and Legacy," a banquet held April 21 on campus.
The recipients, each recognized in a specific category, are: Martha Marking, faculty; Dr. Mike Mayfield, staff; James J. "J.J." Brown III, student development; John Martin "Jamal" Peters, student leader; and Jonathan Mauldin, W.H. Plemmons Fellow.
Related: Business students earned top honors during 2017 Celebration of Leadership and Legacy Award Ceremony
Jonathan Mauldin is recent Walker College of Business graduate. Mauldin, a senior accounting major from Lumberton, is a Plemmons Leadership Fellow, enjoying benefits of a four-year scholarship worth $2,000 a year. He is a member of the Walker Fellows, a group that supports the mission of Appalachian's Walker College of Business by providing outreach to and interaction with current students, future students and alumni. He led the Presidents' Roundtable for the college during the 2016-17 academic year. He has also served as president of the Club Council, the university's governing body for clubs and organizations. He is a past recipient of the President's Volunteer Service Award.
Mauldin's "legacy will be his care for other people," his nominator said. "He is not the type of person that needs to be in the spotlight or craves attention. Rather, he puts others in the spotlight to honor and celebrate others' accomplishments. ...There are very few times when I interact with such a strong and inspirational student leader."
The medallion is named for Dr. William H. Plemmons, who served as Appalachian's second president from 1955 to 1969. The award recognizes the time, energy, skills and commitment of students, faculty, student development educators and staff who exceed their peers in providing leadership that enriches the quality of student life and advances the education of students.
Related: Business students earn 2016 Plemmons Medallion, DiBernardi and Brooks Leadership Awards
Appalachian's Board of Trustees established the medallion award in 1996. The trustees name the medallion winners each year after considering the recommendations of an award committee.
Leroy Wright, Appalachian's associate vice chancellor for student development, chaired this year's award committee. The Board of Trustees named the 2017 medallion winners on March 24.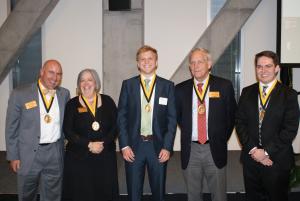 Tags: