October 19, 2022
By: Chelsea Gulliver
BOONE, N.C.
Baseball is the tried-and-true classic of American sports.
Does the baseball scouting process now also hold the key in determining when and how information-gathering improves business performance?
That is what Dr. Tiberiu Ungureanu, an assistant professor of management at Appalachian State University, Dr. Jason Sigler, a postdoctoral researcher, and Ms. Zeynep Yavic, a doctoral candidate at The Ohio State University, hope to answer with their research titled, "Hitting a Curveball: Strategic Factor Markets, Uncertainty, and Performance".
Dr. Ungureanu and his coauthors have developed a unique dataset using both publicly available (e.g., sabermetrics, baseball reference) and private data on all baseball franchises.
Using this dataset, the researchers examined the specific conditions that allow firms (aka baseball franchises) to benefit from investing in information-gatherers (aka scouts). They also examine the conditions when the market prices of resources (aka players) truly incorporate all available information.
Extrapolating from these studies, managers can learn when to invest in gathering more information to gain an edge over their competitors.
While the study is still ongoing, the key takeaways for firm managers are:
Firms may gain a competitive edge by finding and acquiring 'under-valued' resources available in strategic factor markets.
Finding 'under-valued' resources in strategic factor markets depends on how high the uncertainty in the market is—the higher the market uncertainty, the higher the probability of finding such resources.
Firms can improve their chances of finding 'under-valued' resources by investing in information gathering. However, the relationship between investing in information gathering and finding undervalued resources is a u-shaped relationship—too little or too high of an investment is unadvisable.
Research Sensemaking Socials
This research was presented at "Research Sensemaking Socials" a monthly event conducted by Department of Management at App State, wherein faculty colleagues gather to present their research-in-progress and take ideas from one other. If you would like to get involved in future events, or if you want more information about this research, please contact the Department of Management, 828-262-2163 or stansberrylm@appstate.edu.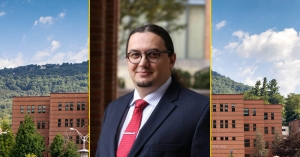 Tags: