Members of the Walker College of Business leadership team attended the 34th Annual Pan-Pacific Business Conference May 29-31, 2017 in Lima, Peru.
Pictured are Dr. Dinesh Dave, left, chair of the college's Department of Computer Information Systems and Supply Chain Management (CISSCM), and Dr. Jim Stoddard, chair of the college's Department of Marketing at the Plaza Mayor in Lima, Peru.
Related: Department chairs named in Walker College of Business
Both professors presented research during the conference. Dave presented a paper he co-authored with CISSCM professors Sandra Vannoy and J. Ken Corley entitled "Supply Chain Materials Flow and the Use of Information Technology." Dave and Stoddard co-presented their work "Consumer awareness of supply chain management flows: Intercultural differences between consumers in Thailand and the United States," of which Marketing Professor Michael Dotson is also a co-author.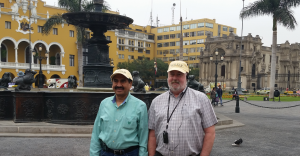 Tags: