A team of students from Appalachian State University placed second in the 2017 Spencer-RIMS Risk Management Challenge, held during the RIMS 2017 Annual Conference & Exhibition April 23 – 26 in Philadelphia, PA.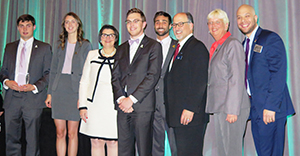 The students, senior RMI majors Aristotle Moulopoulos, John Rucker, Andrew Satterfield and Cecilia Yanez, presented their case-study on PayPal Inc.
Pictured, from left, are Andrew Satterfield, Cecilia Yanez, RIMS CEO Mary Roth, John Rucker, Aristotle Moulopoulos, Spencer Education Foundation Board of Directors Chair Ron Davis, Appalachian Professor of Insurance Karen Epermanis, and RIMS Membership Development ManagerJoshua Lamangan.
Related: Team of RMI students to compete in 2017 Spencer-RIMS Risk Management Challenge
While Appalachian won the competition in 2015, Temple University won in 2016, and St. Joseph's University earned the top spot in 2017.
About the Brantley Center
Appalachian's Risk Management and Insurance Program is the seventh largest in the country. The college's Brantley Risk and Insurance Center, founded in 1988 with support from the Independent Insurance Agents of North Carolina, supports research and faculty development, assists the insurance industry in the design and delivery of training and continuing education programs, and facilitates interaction between students, faculty and the professionals in the insurance industry. For more information about the center, visit http://insurance.appstate.edu.