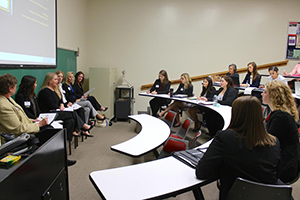 More than 1,100 business students at Appalachian State University participated in the third annual Business Connections event September 30, sponsored by the BB&T Student Leadership Center and the Walker College of Business.
Designed to help prepare Appalachian business students for the realities of the business world, the day consisted of practice interview sessions, track-specific workshops around current industry trends and issues and career-fair-type corporate information tables. The day concluded with an early evening networking reception.
The event provided students, faculty and industry professionals a day-long opportunity to interact and further develop connections. More than 80 industry professionals presented and more than 50 recruiting representatives attended the activities.
"This event is critical to our students' success," said Walker College of Business Dean Heather Norris. "We are thankful for the partnerships with industry that allow our students to connect their academic experiences to the business world."
Companies represented included BB&T, Google, Lowes Companies, Bank of America, Georgia Pacific, Yadkin Bank, Wells Fargo and Duke Energy, among others.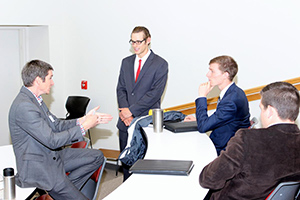 Panel tracks included professional and career skills, leadership development, and graduate studies as well as functional areas of business including accounting, economics, computer information systems, finance and banking, international business, hospitality and tourism, management, marketing, risk management and insurance. and supply chain management.
New to the event this year was a track in sustainable business, which featured presentations entitled Sustainability and Delhaize, Piedmont Natural Gas' Approach to a Sustainable Future, and 98% Reshoring Apparel in the Carolinas (TS Designs).
The Walker College of Business at Appalachian State University is committed to advancing sustainable business practices that promote responsible management of economic, social and natural resources.
The event was a "wonderful day with an impressive group of smart and engaged students," said presenter Lynn Minges, President and CEO at NC Restaurant and Lodging Association. "I loved spending time with the future leaders of our industry! We're in good hands."
Formal internship and employment interviews were scheduled as follow-up from the day's activities.