The Business of... Series
On Thursday, March 5, 2020 the Walker College of Business hosted the Business of Sport, a one-day event for students, faculty and community members to learn first-hand about this multifaceted industry.
Chip Bowers '95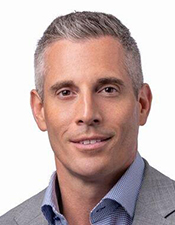 Chip Bowers is a highly regarded and well respected sports executive with over twenty-four years of experience as a senior leader with some of the most revered brands in professional sports.
Mr. Bowers most recent role was as the President of Business Operations for the Miami Marlins. Prior to his arrival in South Florida, Bowers was in his sixth season as the chief marketing officer (CMO) of the Golden State Warriors. In the role, Mr. Bowers oversaw all broadcasting, marketing, retail and corporate partnership sales & service efforts for the organization. During his tenure, the Warriors corporate partnerships department grew from 27th in the NBA in revenue to tops in the league. [ More ]
Doug Gillin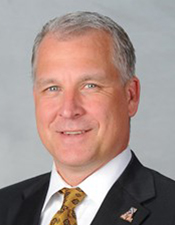 Doug Gillin was named Appalachian State University's director of athletics on Feb. 27, 2015, and he officially began the role April 6, 2015.
In the midst of his fifth year in Boone, Gillin has overseen progress in all facets of an athletics department that was in the beginning stages of its transition from FCS football and Southern Conference membership to FBS football and the Sun Belt Conference upon his arrival.
Among the achievements under Gillin's leadership have been App State student-athletes leading Sun Belt peers academically and in community involvement; major facility and game day experience enhancements; negotiating home football games against top-tier programs such as Miami, North Carolina and South Carolina; record-breaking football crowds; conference championships in several men's and women's sports; and a significant increase in philanthropic giving.
Under Gillin, App State Athletics' stated mission is to "support the educational mission of the university," doing so by adhering to core values of academic integrity, social responsibility, competitive excellence and a world-class experience.
Cameron Wagner '94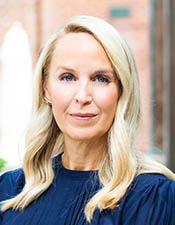 Cameron Wagner leads GMR's client consulting + services groups in Charlotte, New York and San Francisco. In this role, she oversees the development of high-impact marketing strategies and platforms for a wide roster of clients, including P&G, Visa, Bridgestone and Lowe's. Formerly of IMG, Wagner has worked for GMR for more than 12 years.
Steve Swethoa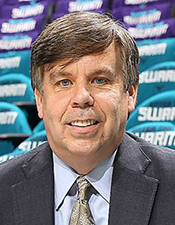 Steve Swetoha is entering his third season as the Team President of the Greensboro Swarm, the NBA G League affiliated owned and operated by Hornets Sports and Entertainment. Prior to his arrival in Greensboro, Swetoha was the President, General Manager and Chief Revenue Officer of the WNBA's Tulsa Shock for six years. He oversaw both basketball and business operations and lead the team to their first ever playoff appearance in 2015.
Swetoha has previous experience in the NFL, NBA, NHL, WNBA and the ACC in various roles ranging from Director of Sales to Senior Vice President of Sales and Retention to Vice President of Business Operations. An alum of Robert Morris University, he earned his Bachelor of Science degree with a concentration in Sport Management and in 2010 was elected to the Robert Morris Sport Management Hall of Fame Class. Swetoha has also earned his Master's Degree in Sports Leadership at Duquesne University.
Swetoha is an active member of the Triad community, where he sits on a number of leadership boards including Junior Achievement, Guilford Merchants Association, YMCA Metro Board, Our Lady of Grace Catholic School board, and the Greensboro Sports Commission.