The 2016 Global Opportunities Conference: Problems to Possibilities was held on Friday, April 8th at 9am in the Plemmons Student Union and explored the role that innovative business and pioneering entrepreneurs can take in addressing pressing environmental and social issues.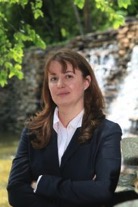 Keynote speaker, Erin Meezan, Vice President of Sustainability at Interface shared her vision of this inspiring sustainability pioneer. The 2014 Sustainability Leaders Report ranked Interface 3rd among the top companies leading the way on sustainability – right after Patagonia. For a traditional carpet company turned sustainable to make this list is testament to the inspiring vision of Founder and Chairman Ray Anderson. Since this change in vision in 1994, Interface has reduced waste to landfill by 91%, cut down water intake by 86% and greenhouse gas emissions by 73%. Currently, 50% of Interface's total raw materials are recycled or bio-based and 45% of their energy use comes from renewable sources. Mission Zero, their visionary goal, is to source 100% of energy needs from renewable sources by 2020. Erin Meezan gave a voice to the company's conscience, ensuring that strategy and goals are in sync with the aggressive sustainability vision established almost 20 years ago.
There were two main "idea talks" from Dr. Dan Fogel, Director of Graduate Sustainability Studies at Wake Forest University who spoke about"Nature's Price" and Dr. Jeremy Ferrell, Assistant Professor of Sustainable Technology at Appalachian State University who talked about "Turning Waste into Resource in Latin America." Leigh Shamblin, Director of the Global Innovation Management Master's Program at North Carolina State University, joined both speakers for a luncheon panel discussion to provoke conversation on the conference theme.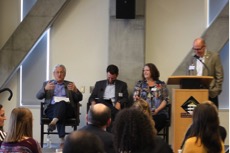 Students presented stories of innovative and sustainable thinking abroad drawn from their experiences in Cambodia, Vietnam, Costa Rica, Taiwan and South Korea as well.
This event was hosted by The Walker College of Business with support from Appalachian's Office of the QEP and University College, the Goodnight Family Sustainable Development Department and the Holshouser Ethics Program.
The 2017 Global Opportunities Conference is tentatively scheduled for Friday, April 7th. Please mark your calendars and check back at a later date for more information.