Walker College of Business faculty and students traveled to China to learn about international business and to explore a global marketplace and its political, financial, economic and incubation centers.
Delegations of business students traveled to China, Cuba, England and Iceland over Appalachian's spring break, March 13-17, 2017.
Computer Information Systems and Supply Chain Management Professor Charlie Chen led the delegation to China.
Because many industries and companies are increasingly global in nature, and because international business can potentially differ in important ways from business conducted within our domestic borders, it's important that business students learn first-hand knowledge on doing business abroad.
Participants networked with Chinese business executives, learning about internship opportunities, and they enjoyed group discussions with local students and entrepreneurs, building international friendships through both academic and social activities.
The students toured major attractions in Beijing, Shanghai and Xian, including the Chinese opera, the Great Wall, the Forbidden City and Terracotta Army Museum.
Related: 2017 Spring Break study abroad excursion to Cuba
Related: 2017 Spring Break study abroad excursion to Iceland
Related: 2017 Spring Break study abroad excursion to England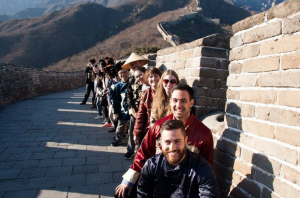 Tags: