Appalachian State University students traveled to Iceland over spring break to study green energy, eco-tourism, and Icelandic culture on one of four simultaneous spring break travel abroad experiences coordinated by the Walker College of Business.
Delegations of business students traveled to China, Cuba, England and Iceland over Appalachian's spring break, March 13-17, 2017.
The Iceland group toured the geothermal energy institute, hydro-power plants, commercial and research green houses, and geothermal hot springs. The students also had the opportunity to ride Icelandic horses and some saw the northern lights.
The International Business Student Association helped plan the trip, and the Walker College of Business provided the group with a travel grant to help offset the travel costs. The students completed a course on Sustainable Business in Iceland as part of the program.
The students will create a global perspectives portfolio to articulate the value of studying abroad to potential employers.
Related: 2017 Spring Break study abroad excursion to Cuba
Related: 2017 Spring Break study abroad excursion to China
Related: 2017 Spring Break study abroad excursion to England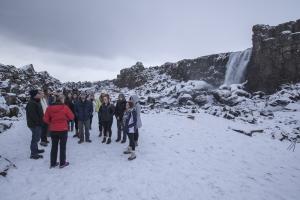 Tags: