Business students from Appalachian State University recently traveled to Cuba on one of four simultaneous spring break travel abroad experiences coordinated by the Walker College of Business.
Delegations of business students traveled to China, Cuba, England and Iceland over Appalachian's spring break, March 13-17, 2017.
Led by Walker College Professor of Management Rachel Shinnar, the group explored the economic and social culture of Cuba, taking classes at the University of Havana and visiting museums in Trinidad and Cienfuegos. Activities also included salsa dancing, snorkeling in the Caribbean, touring a cigar factory, visiting Che Guevera's mausoleum, and attending the traditional cannon shooting that signaled the closing of the bay in Havana.
"We left Cuba having met some amazing local people and truly having experienced much of the socialist culture," said participant Maira Compagnone.
According Walker College Associate Dean of International Programs Martin Meznar, one goal of study abroad trips is "to instill critical thinking and new ideas."
Related: Watch a video of Meznar as he leads a roundtable discussion with Appalachian students who traveled to Cuba in 2012
Related: 2017 Spring Break study abroad excursion to Iceland
Related: 2017 Spring Break study abroad excursion to China
Related: 2017 Spring Break study abroad excursion to England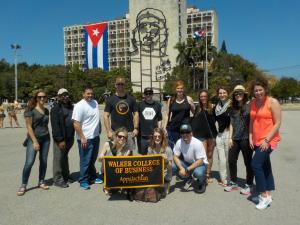 Tags: