On Thursday, March 5, the Walker College of Business will host the Business of Sports, a one-day event for Appalachian State University students, faculty and community members to learn first-hand about a multifaceted industry.
Special guest speakers will include Appalachian alumni Chip Bowers '95, past president of business operations for the Miami Marlins, and Cameron Wagner '94, chief client officer for GMR Marketing, as well as App State Athletics Director Doug Gillin, and Greensboro Swarm President Steve Swetoha.
Public Reception
The four will speak to Appalachian business students during scheduled classes in Peacock Hall, but they will also be present for an afternoon reception in the Walker WORKspace (182 Howard Street, Boone). The drop-in reception will be held from 3:30 - 5:00 p.m. and is free and open to the public. Refreshments will be served.
The event is an initiative of the Walker Experience. To learn more, visit business.appstate.edu/industry-series.
Contact
Select students, faculty members and community members will receive invitations to a breakfast meet and greet and a luncheon and panel discussion. To inquire, email Mandy Southern, southernmn@appstate.edu.
About the Walker Experience
The Walker Experience is the coordination of experiential learning opportunities for business students at Appalachian State Univeristy, whereby students apply what they learn in the classroom to real-world problems in industry, the community and society. Leveraging these experiences — internships, global competitions, consulting projects and more — graduates find that studying business at Appalachian has given them the practice needed to quickly achieve career success. The college is continuously refining the Walker Experience, helping students build a personal competitive advantage while at Appalachian. Learn more at business.appstate.edu/experience.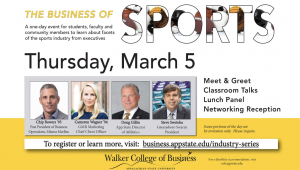 Tags: