Toward the end of the Fall, as outdoor temperatures drop, the activity level inside Peacock Hall rises. As students complete presentations and prepare for final examinations, faculty and staff members provide guidance both inside and outside the classroom.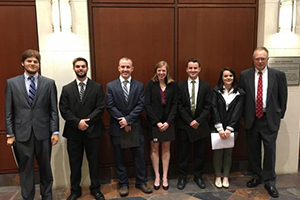 The Walker College emphasizes applied learning, and students from many backgrounds participate in regional, national, and international opportunities to test their knowledge. Economics students recently won the North and South Carolina's region College Fed Challenge. The Broyhill Fellows, finance students, are preparing for the CFA Institute Research Challenge, and marketing students recently placed in the International Collegiate Sales Competition.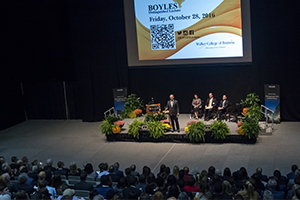 Students also receive practical experience through special events on campus. The fourth annual Business Connections event was held September 28, and made an impact on 1100 students. Nearly 200 industry representatives and more than 100 faculty and staff members participated. Another career-related event in Peacock Hall, the Risk Management & Insurance Career Fair, took place on October 20 and brought representatives from a record 44 insurance-related organizations to Peacock Hall. Among them was Brantley Risk & Insurance Center founding strategic partner IIANC. The 58th Boyles Distinguished Lecture, held October 28, provided both students and community members practical advice from Transportation Insight Founder Paul Thompson. Ten undergraduates from Winston Salem State University participated in the Boyles activities; they were on campus for the inaugural Collegiate Multicultural Leadership Exchange, learning about leadership and graduate programs at Appalachian.
Beyond facilitating transformational educational experiences, our faculty (thirteen recently participated in the second annual Dean's Club research poster session) continue to be involved in research and service. Engaged alumni are also serving our students. We recently named the newly renovated Lee Barnes Graduate Programs and Research Suite in Peacock Hall in honor of an alumnus, and Appalachian alumni from Boone, Salisbury and Charlotte were recently honored for their contributions.
Inform us of goings on by submitting news and sharing stories on our website. Read your fellow alumni class notes, and come back to campus to visit often. Consider joining the November 11 Carole Moore McLeod Entrepreneur Summit, to hear MapQuest Founder Chris Heivly and a wealth of other inspiring innovators and entrepreneurs. Follow the Walker College on Facebook, Instagram, and LinkedIn, and engage with your alma mater.
Heather Norris, Dean
Walker College of Business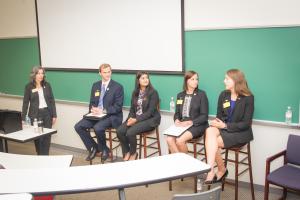 Tags: