Members of the Walker College of Business staff have earned a Staff Senate Staff Shout Out for exemplary service in their work during the first quarter of the calendar year. Among those honored in the first quarter (January-March) of 2021 were:
Graduate Student Services Associate Cele Burt, for "Finding innovative ways to get students connected virtually and make them feel welcomed."

Communications Director Haley Childers, who "has been a bright star during the pandemic. She always has kind words to offer others while in Zoom meetings and makes them feel special."

Finance & Banking Administrator Wendy Deng, who "exemplifies professionalism and expertise. She is not just knowledgeable, but also thoughtful and strategic in her work."

Development Specialist Jennifer Hayward, who is "very hard-working and always willing to help her colleagues, or point them to needed resources. Her positive attitude and knowledge are a huge asset."

Academic Advising Director Sheryl Kane, because she is "great to work with. Conscientious of preparing accurate, detailed work and how it impacts others. She is always helpful."

Graduate Programs Administrator Donna Lindabury, for volunteering "to take added responsibility and showing empathy for other staff, although she herself is very busy."

Scholarship Coordinator Kathy Mann, who was "recently contacted about a student who was struggling financially and went out of her way to identify scholarship funding for the student and got it entered and approved the same day! Kathy always has the best interest of our students in mind and strives to make sure all WCOB students know we care about them."

IT Consultant Tung Ong, who "always goes out of his way to help... Even when he is in the middle of a "million" other things, he makes time and shows unending patience (and a great sense of humor, too)!

Business Services Coordinator Katie Patrick, for going "beyond the call of duty to assist with reconciling and running reports for program funds."

Advising Records Supervisor Karen Wilkinson, for "accurately and speedily doing two jobs for four months, while maintaining her charm and positive attitude!"

Computer Information Systems Administrator Samantha Williams, who "is the first to raise her hand to help a project, or an individual. She has a servant's heart, and she's a strong leader among the Walker College staff"
About the Shout Out Program
The shout outs are an informal recognition program to encourage positive morale and staff engagement.
The program is one of several ways Appalachian State University's Staff Senate Recognition Committee works to create a positive work environment, improve employee engagement and encourage an environment of support and appreciation.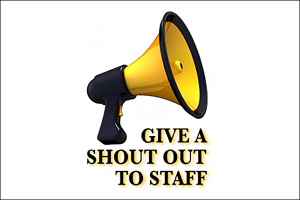 Tags: