Students in Appalachian State University's Industrial-Organizational Psychology and Human Resource Management (IOHRM) program are considering how the field of human resources may help the manufacturing industry survive the COVID-19 pandemic.
In the third video in the HRM Solutions to COVID series —Guardians of the Factory: How Has COVID-19 Impacted the Manufacturing Industry? — students Darby Ford, Jessie Harris and Lindsey Wuerfel provide a background of the current status of manufacturing (0:53), including pre-COVID perception studies (1:45) and the Smithfield case study (3:10).
The researchers then offer advice on managing employee concerns versus business needs (5:30), overview the current health guidelines (6:34), discuss preventative strategies (7:33), and consider how to best deal with uncertainty (12:33). Viewers will also learn about online resources (17:40) and communication mechanisms (20:55).
The students also predict how the future of manufacturing may be changed by COVID-19, addressing adaptive performance (22:18), data and technology (23:30), product lines (25:49), workflows (27:42) and the role of HR.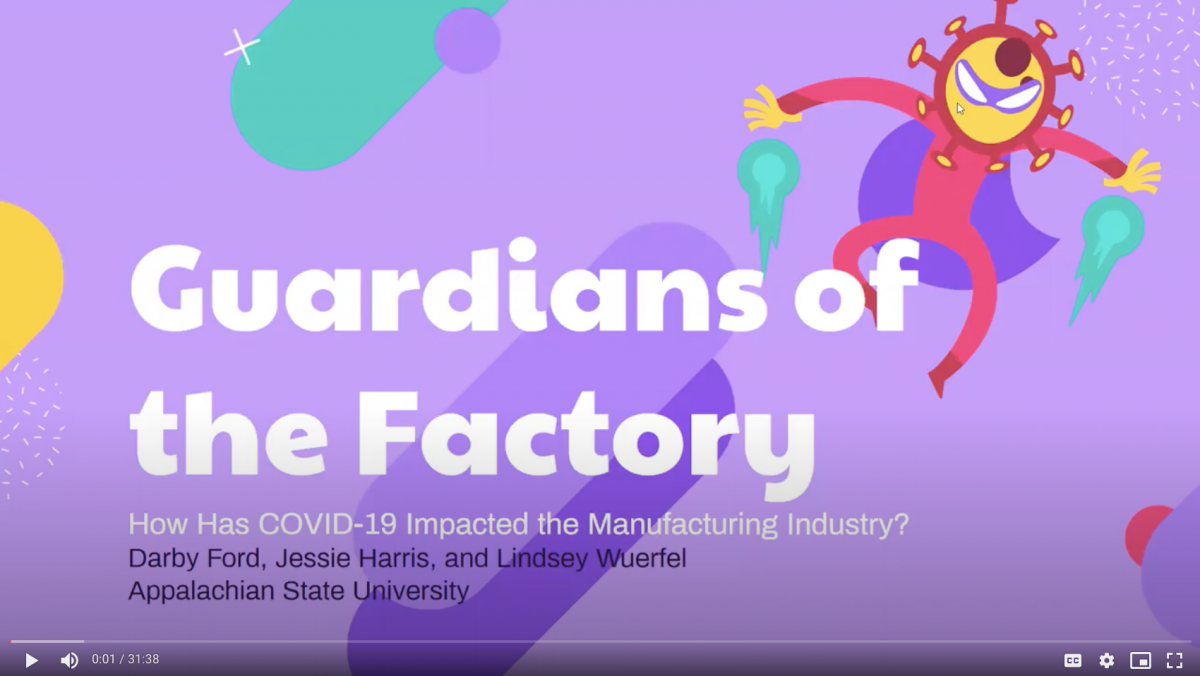 In the first HRM Solutions to COVID video, students offered guidance to address human resource (HR) concerns for hospitals as they work to effectively staff hospitals during the pandemic. Watch the first video.
In the second HRM Solutions to COVID video, students addressed key questions facing managers across the country during the COVID-19 pandemic. Watch the second video.
About Appalachian's IOHRM Program
Appalachian's Industrial-Organizational Psychology and Human Resource Management (IOHRM) program offers an interdisciplinary Master of Arts degree through the Departments of Psychology in the College of Arts & Sciences and Management in the Walker College of Business. Students receive specialized training in human resource management with emphases on developing knowledge of theories, methods and research findings derived from the behavioral sciences. The degree prepares graduates for work in business, industry and government, where they will address organizational activities such as selection, placement and motivation of employees, training and development, performance appraisal, and development and change of organizations. Learn more online, iohrm.appstate.edu.