Three faculty members in the Walker College of Business have been awarded Graduate Research Assistant Mentoring Program (GRAM) funding for 2023-2025.
The Walker College recipients are professor of hospitality and tourism management Carol Kline, assistant professor of management Tiberiu Ungureanu, and computer information systems associate professor Jason Xiong.
The GRAM award provides $14,000 in funding for each of two years (total $28,000) for these faculty members to use to hire a dedicated graduate assistant for 20 hours per week. This is in addition to any other assistantship funding the program may receive.
The GRAM funding is coordinated by Appalachian State University's Cratis D. Williams School of Graduate Studies.
Dr. Carol Kline
Dr. Kline's research interests focus broadly on tourism planning and development and tourism sustainability, they cover a range of topics such as foodie segmentation, craft beverages, agritourism, animal welfare in tourism, tourism entrepreneurship, niche tourism markets, and tourism impacts to communities.
Dr. Kline serves as director for App State's Hospitality & Tourism Management program.
Her funded project is entitled Furthering the Animal Agenda in Tourism.
Dr. Tiberiu Ungureanu
Dr. Tiberiu Sergiu Vasile Ungureanu is an assistant professor of management whose research focuses on understanding how firm structure influences the resource allocation process, especially between exploration and exploitation activities.
His funded project is entitled The effect of information gatherers (boundary spanners) on strategic decision making.
Dr. Jason Xiong
Research from Dr. Jason Xiong, an associate professor of computer information systems, focuses on IT for Development (IT4D), E-Commerce, and the value of Information Systems. Dr. Xiong has work experience in large IT companies in the United States and China. Dr. Xiong is the Vice President for Communication for Association for Information Systems (AIS) SigGlobDev. Dr. Xiong is the Communication Editor for Journal of Information Technology for Development and Editorial Board Member for Journal of Database Management and Journal of Information Systems Applied Research.
Dr. Xiong serves as director for App State's Master of Science in Applied Data Analytics program.
His funded project is entitled How Blockchain Could Revolutionize Cybersecurity and Promote Equitable and Sustainable Development.
See the complete list of funded projects at graduate.appstate.edu.
About Faculty Research in the Walker College of Business
The Walker College faculty produce and disseminate extensive research through both academic and professional communities. In the last five years, faculty have published 543 peer reviewed academic journal articles, 160 conference proceedings, and made 533 conference and professional presentations. In total, faculty have produced 1,175 intellectual contributions in the last five years. Approximately 520 intellectual contributions were made in basic or discovery research, 540 in applied or integrative research, and 115 contributions in teaching and learning research. Learn more at business.appstate.edu/research.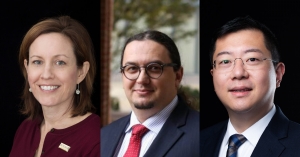 Tags: