Appalachian State University seniors Luis Rangel, Myles Grady and Preston MacDonald traveled to Raleigh, North Carolina on November 10, 2018 to present their research at the State of North Carolina Undergraduate Research and Creativity Symposium (SNCURCS).
SNCURCS provides undergraduate scholars in all fields an annual forum to share the results of their work through posters, presentations, performances and works of art, showcasing North Carolina undergraduate student research and creativity.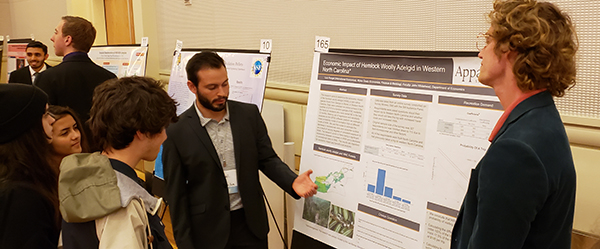 Rangel, an international economics major, and Grady, an economics, and finance and banking double major, worked with economics professor John Whitehead on their research, Economic Impact of Hemlock Woolly Adelgid in Western North Carolina. View the poster.
Pictured: Rangel describes the research findings to participants at SNCURCS while Grady looks on.
Preston MacDonald, a mathematics major and student data analyst for Appalachian's Center for Analytics Research and Education (CARE), presented research on Moving Beyond Behavioral Intentions: Using TAM to Design Software for Beekeepers and Measure Adoption Rates. CARE Director Joseph Cazier, CARE Assistant Director Ed Hassler and HivesTracks CEO James Wilkes served as faculty mentors to MacDonald. View the poster.
Related: The Center for Analytics Research and Education Presents Research on Bee Hive Technology at the SNCURCS Conference at North Carolina State University
The students' research was partially funded by the Lee Barnes Benefaction for Learning Enhancement and Enrichment.
About Student Research in Appalachian's Walker College of Business
The Walker College Business encourages students to participate in research supervised by a faculty mentor to: Learn more about issues or questions of specific interest; Learn how business firms and government agencies do research; Gain additional job skills; Work more closely in a collaborative and mentoring context with a professor, and Improve presentation skills. Business students are eligible to apply for a variety of research grants designed to cover costs associated with research projects or creative endeavors, including Appalachian State University Office of Student Research Grants, Barnes Program Research Grants, and the CERPA Scholars Program. Learn more at business.appstate.edu/students/research.