Many Thanks to:
Keynote Speaker
Gabriel Ribenboim
Senior Consultant, Sustainable Development Innovation
Sustainable Amazon Foundation (FAS)
Gabriel Ribenboim is a Biologist with over 10 years of experience. Developer of an array of qualified and innovative initiatives in sustainable development and inclusive economy within vulnerable communities in the Amazon, with a strong focus on multiple benefits. Effective fundraiser, securing multi-year, multi-million dollar resources from corporations, foundations and government institutions in the Americas, Europe and Asia. He currently works as an independent consultant for NGOs, including the Sustainable Amazon Foundation, where he develops projects related to Payment for Environmental Services, Innovation for Sustainable Development and Inclusive Economy.
Morning Speaker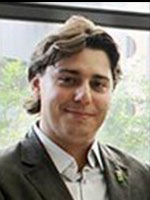 Victor Salviati
Innovative Solutions Coordinator
Sustainable Amazon Foundation (FAS)
Victor Salviati, biologist with a Master's in Sustainable Development, has been working with conservation and financing conservation in the Amazon since 2009. Victor currently manages the Innovative Solutions Programme at Sustainable Amazon Foundation (FAS). Among his duties are fundraising, forest monitoring, innovative arrangement for conservation, REDD+, R&D and public policies. As key ongoing projects, Victor is leading the first of its kind FSC certification for protected areas' management, designing FAS' strategy for climate adaptation in isolated riverine communities in the Amazon, and supporting the regulation of the Environmental Services Law in the State of Amazonas.
Moderator
Dr. Tammy Kowalczyk
Panel Moderator
Professor of Accounting at Appalachian State University
Dr. Tammy Kowalczyk is a Professor of Accounting in the Walker College of Business at Appalachian State University. She has a PhD in Accounting from Texas A&M University, and an MBA from the University of Texas at Austin. She is the first acting Sustainability Academic Fellow at Appalachian State University, serving for academic years 2015 – 2017. She teaches primarily in the area of sustainability accounting, and has developed both an undergraduate and graduate course in sustainability performance assessment, which emphasizes a triple bottom line perspective. Through the graduate course, she facilitates service projects in which students assist community organizations with impact assessments and developing sustainable practices. She also participates in interdisciplinary research on sustainability issues, particularly on the importance of measuring the environmental and social impacts of business practices. Her research has been published in the Journal of Industrial Ecology and the Journal of Environmental Management, and prior accounting related research has appeared in Behavioral Research in Accounting, Advances in Management Accounting, and the CPA Journal. Prior to academia, she worked for Deloitte, a large international public accounting firm, and also as a financial analyst for an environmental consulting firm.

Additional Panelists
Gretchen Digby, CSM, ULE DfS G-CH

Director, Global Sustainability Programs
Center for Energy Efficiency & Sustainability at Ingersoll Rand

Gretchen Digby establishes world-class internal and external energy efficiency and sustainability training curriculum for Ingersoll Rand's 47,000 employees. This includes leading global employee engagement activities to further integrate sustainability into the company culture. Gretchen also oversees the company's global network of employee volunteer Green Teams.

Michael Chenard

Affiliate Partner at HIRA Home Improvement Retail Advisors, LLC
Former Director, Corporate Sustainability Lowes Companies, Inc.

Michael Chenard began his work in the US Navy where he served for seven years and started his work in environmental management. Later he developed environmental management systems for Champion International and Pitney Bowes, which led to his position as the first sustainability director for Lowe's in 2002. where he served until the fall of 2016. Additionally, Mr. Chenard has become a recognized retail industry expert in dealing with issue-advocacy groups including Rainforest Action Network, PETA, and Greenpeace. Mr. Chenard is currently engaged with Home Improvement Retail Advisors (HIRA) as an affiliate partner. He has a bachelor's degree in Foreign Affairs from the University of Virginia and a graduate degree in Environmental Management from Duke University. He and his wife have three children.

Rajat Panwar

Associate Professor, Sustainable Business Management, Appalachian State University


Dr. Rajat Panwar is an Associate Professor of Sustainable Business Management in the Management department of Walker College of Business at Appalachian State University. His research intersects corporate social responsibility, corporate sustainability, and innovation particularly in the natural resource sector. Rajat has earned two doctorate degrees- one in Forest Products Management from Oregon State University and the second in Strategic Management from Grenoble Ecole de Management in France. He publishes his research in both Business and Forestry journals, and his previous work has appeared in Business and Society, Business Strategy and the Environment, Journal of Business Ethics, Organization and Environment, Journal of Public Affairs, Forest Policy and Economics, among others. He has co-edited two books: The Global Forest Sector: Changes, Practices, and Prospects published by CRC Press and Forests, Business, and Sustainability published by Routledge. Dr. Panwar is the Editor of the journal Bioproducts Business. He is also an affiliate faculty at School of Forestry and Environment Studies, Yale University. His non-academic experience includes working with the United Nations and the World Bank.

John Whitehead

Professor, Economics, Appalachian State University


Dr. John C. Whitehead is department chair and professor in the Department of Economics at Appalachian State University. He received his BA in economics from Centre College and PhD in economics from the University of Kentucky. His teaching includes undergraduate and graduate courses in environmental and natural resource economics, benefit-cost analysis, microeconomics and business statistics. Dr. Whitehead's research includes nonmarket valuation, primarily in the context of recreation and water quality. His research employs stated preference methods alone and in combination with revealed preference methods. He has published over 100 peer reviewed articles and book chapters and co-edited two books. He is an associate editor at Marine Resource Economics and was an associate editor at the Journal of Environmental Management for 4 years. He is currently on the editorial council of the Journal of the Association of Environmental and Resource Economists. He is a member of the Socioeconomic Panel (SEP) of the Statistics and Scientific Committee (SSC) of South Atlantic Fishery Management Council. He recently completed five years as chair of the SEP and 11 years as a member of the SSC.

Student Presenters

Ali Moxley

Participant Sustainability and Society in the Brazilian Amazon

Ali grew up just outside Atlanta in Marietta, GA. Coming to Appalachian State got her more excited about both travel and sustainability, and she has tried to find unique ways to combine these interests. She had the opportunity to travel to Brazil through the Walker College of Business to explore sustainable business throughout the Amazon. While there she completed an independent study about the Foundation for Sustainable Amazon based off her first hand experience interacting with local communities that FAS works with. Ali has also attended an International Leadership Conference in Barcelona, Spain, where leaders from around the world came to intermingle and present. Locally, Ali stays plugged in with sustainability initiatives by volunteering at F.A.R.M cafe, a pay-what-you-can community kitchen that focuses on serving healthy, local food options. Ali's major is Management and her minors are Sustainable Business and Nutrition.

Dylan Turner

Co-leader of the iASE program to Costa Rica

Dylan is a North Carolina native who began his studies at ASU in 2015, following two years of community college. Dylan had the opportunity to travel to Villas Mastatal as a participant on an iASE in 2016, and was fortunate enough to return as a co-leader over this year's Spring Break program. Villas Mastatal is a sustainable, family farm located in the town of Mastatal, Costa Rica. The family that runs Villas Mastatal incorporates many permaculture practices that enhance the resilience of their farm, and provide a great deal of biological diversity. In addition to ecological sustainability, the family also encourages engaging in the local economy, and building community bonds, which is reminiscent of the Local First movement here in the High Country. Dylan is currently an intern with Blue Ridge Women in Agriculture assisting in their Food Hub project, and when possible, will volunteer with a local farm. He is a Philosophy major, and Sustainable Development minor.

Marissa Schneider

Co-Leader of the iASE program to Belize

Marissa began her studies at Appalachian State University in 2014. She grew up in Charlotte and has always been interested in food, design, and equity issues; these interests led her to major in Sustainable Development with a concentration in Community, Regional, and Global Development. Marissa became involved with Alternative Service Experience during her first year and was a participant to Jones Valley Teaching Farm in Birmingham, Alabama; the following year, she co-lead an ASE to a Head Start program in New Jersey. She was a co-leader for this year's International ASE to Rancho Dolores, Belize where the participants did service learning through agroforestry programs at Spanish Creek Rainforest Reserve. Marissa was a summer garden intern for Blackburn Community Gardens in 2016, which provided free Community Supported Agriculture boxes to food insecure families in the High Country. She is co-starting an organic market garden just outside of Boone, and aspires to share healthy food and leave lasting positive impacts wherever she goes.

Special Guests

Dr. Darrell Kruger

Provost and Executive Vice Chancellor

Dr. Darrell P. Kruger began his tenure as provost and executive vice chancellor at Appalachian State University in July 2015. Dr. Kruger came to Appalachian from the University of New Orleans, where he was dean of the College of Education and Human Development.

Dr. Kruger holds a doctorate in geography from Louisiana State University. In addition to the University of New Orleans, he has held administrative and faculty posts at Illinois State University and been on the faculty at the University of Louisiana at Monroe and Louisiana State University.

Dr. Heather Norris

Dean of the Walker College of Business

Heather joined the Walker College of Business faculty in the fall of 2003 in the Department of Finance, Banking and Insurance. She was named assistant dean for undergraduate programs in 2005, associate dean for undergraduate programs and administration in 2008 and senior associate dean in 2012. She was named acting dean of the college in July 2014 and became dean in July of 2016. Prior to her time at Appalachian, Norris served on the faculty at Bowling Green State University, the Pennsylvania State University and West Virginia University. Heather earned her PhD at Pennsylvania State University.

Dr. Jesse Lutabingwa

Associate Vice Chancellor of International Education and Development and Director of International Research and Development

Dr. Lutabingwa will moderate the panel discussion. With more than 20 years of experience in International Education and Development, Jesse is responsible for providing leadership in advocating for, supporting and pursuing the university's goals for international education and development. In this regard, his most important priorities include: collaborating with faculty to further internationalize the curriculum; advocating for programs of study that prepare students to be globally competent; identifying opportunities for faculty to acquire international education experiences; serving the large and diverse population of international students and visiting scholars; and expanding the boundaries of Appalachian's community engagement beyond the U.S. borders.

Originally from Tanzania, Jesse has traveled extensively in Africa, Asia, Central and Eastern Europe, Latin America and the Caribbean, and Western Europe. He holds a Bachelor's degree in Business Administration and Economics with a Political Science minor; a Master's degree in International Development Management, and a Ph.D. in Public Administration. He finds fulfillment in making a difference in the lives of people, especially in developing countries.

Dr. Martin Meznar

Associate Dean for International Programs and Assessment at the Walker College of Business

Dr. Meznar was born and raised in Brazil. He holds a Ph.D. in International Business from the University of South Carolina. Much of his research centers on public affairs management in multinational corporations and on corporate social issues management. Prior to joining Appalachian State he taught at Arizona State University and before that at the University of Victoria, in British Columbia. His research has been published in a variety of academic journals, including the Academy of Management Journal, Human Relations, Business & Society, Journal of International Management, Journal of Public Affairs and Latin American Business Review. He has led numerous student academic programs abroad, including three programs to Cuba in partnership with the University of Havana.

Dr. Lee Ball Jr.

Director of Sustainability

Lee F. Ball Jr. has a doctorate in Sustainability Education, a master's degree in Environmental Education, and a Bachelor of Science degree in Natural Science. He has spent the past fourteen years teaching sustainability-related content in Appalachian State University's Department of Sustainable Technologies and the Built Environment. Lee's primary research is focused on sustainability literacy, the valuation of green building, biophilic/ecophilic design, and change agency related to community engagement. Lee is a founding member of Appalachian State University's Sustainability Council and is the current chair of its Assessment and Data sub-committee. Lee is also a founding member of Appalachian State University's Living Green residential learning community and he developed its linked first-year seminar course, Contemporary Green Living. In addition, Lee serves as president of the Elkland Art Center, a local non-profit community-based experiential art and sustainability education organization that specializes in large scale community parades, puppetry, video documentaries, and community development. His other interests include art, birding, stone masonry, gardening, music, running, and spending time with his family.

Meredith Church Pipes

International Programs Coordinator, Walker College of Business

Meredith Church Pipes has served as the international programs coordinator for the Walker College of Business since 2010. In addition to her other duties, Pipes has co-led study abroad programs to Costa Rica, Malawi, Turkey, Brazil, France and Cuba. Pipes was an adjunct instructor of Spanish at Appalachian State University for three years before joining the College of Business. She served as program coordinator for World Camp for Kids in Honduras, a not-for-profit providing HIV prevention education. Pipes was the Regional Programs Coordinator for the Programa Internacional de Estudios de Español in Ronda, Spain. Pipes earned her Master's degree in Latin America Studies from the University of Kansas.

Musical Guests

Eya!!! Afrolachian Drum and Dance Troupe performs traditional music and dance from a variety of countries across the African continent, the Caribbean, and the Arabic world. Additionally, Eya! presents contemporary musical works in a Pan-Global style, deriving and most often combining world influences.