This edition of the Walker College of Business Dean's Update is one in a series of monthly publications for Walker College faculty, staff, stakeholders and Appalachian State University community members. Please share your news items for inclusion in this and other publications of the Walker College of Business. For up-to-date information, please check the news section at business.appstate.edu.
This month's update celebrates faculty and student engagement in research and service. True to our mission, our faculty are actively engaged in scholarship and service endeavors that make transformational educational experiences for our students possible and that also positively benefit the business discipline and the broader community. Read below for some of the highlights.
Eight faculty and staff members recently returned from Eastern Kentucky University, where they collaborated with the business faculty from other regional universities on research ideas and methodologies at the Apalachian Research in Business Symposium.
RMI seniors Parker Roberson and Hannah Lanier won the 2016 AAMGA "White Paper" competition; their papers were selected from more than 80 submissions across the country. Appalachian has won this award a record seven times, and is the only school in the country to have a student win in each of the seven years of the competition.
Economics faculty and students recently conducted high country tourism economic impact analyses.
The student CFA Institute Research Challenge team presented their financial analysis of Sonic Automotive prior to Bowden Investment Group co-advisor David Thompson's luncheon comments at the March 24 Boyles Executive Luncheon. Video of Thompson's speech, Lost and Found, as well as video of Wells Fargo Executive Vice President of Wealth Management and Investment David Carroll's featured address, Making – and Keeping – Yourself Relevant in Today's World, are now on our Boyles Series website.
Business students can take advantage of a variety of research grants designed to cover costs associated with research projects or creative endeavors, including the Barnes Program Research Grants and the CERPA Scholars Program.
This month, many student organizations will host special event to raise funds and serve others. On April 16 Pi Sigma Epsilon will Golf for Grayson. Simultaneously, Walker Fellows will provide tours of Peacock Hall to prospective Appalachian students during spring open house. Presidents of the 20+ student organizations will also host booths during open house, aiming to serve Appalachian by attracting the most motivated and involved students.
In conjunction with a weeklong food drive, the Walker Fellows will host a service day on April 25 on the Peacock Hall first floor patio. An expected highlight of the day will be a dunking booth where faculty and staff will "get dunked" by those who have donated.
April will also bring many opportunities to see our students honored for their work. During the April 8 Global Opportunities Conference, we will hear not only from Interface Vice President of Sustainability Erin Meezan, and other expert speakers, but also several students who have expanded their cultural awareness through international experiences with service components this semester.
On April 22, many undergraduate students with GPAs in the top 10% of the college, and graduate students in the top 20% will be inducted into Beta Gamma Sigma the international honor society. During the college's Yadkin Bank honors convocation, students with top GPA per department and top leaders for each student organization will be recognized. During this event, the top student overall for 2016 will also be announced, and participants will hear from guest speaker Vanessa LeLiever Murray.
The GA Sywassink Day of Excellence, scheduled for May 5, will be another opportunity to acknowledge the extraordinary teaching, research and service by faculty and staff members in the Walker College. In the spirit of acknowledgment, happy birthday to our colleagues celebrating birthdays this month:
April 3: Matthew Sawyer, Accounting

April 8: Al Harris, CIS & SCM

April 9: Joseph Cazier, CARE

April 17: Christopher Taylor, CIS & SCM

April 18: Austin Eggers, Finance, Banking and Insurance

April 22: Peter Groothuis, Economics

April 24: Richard Mattar, Finance, Banking and Insurance

April 26: Peter Villanova, Management

April 30: Sandy Vannoy, MBA

April 30: Ash Morgan, Economics

April 30: Jesse Pipes, Management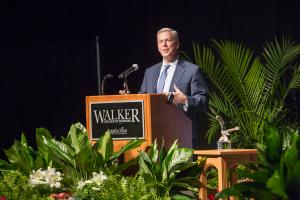 Tags: