In the next two weeks, our Walker College of Business alumni and friends will receive a print copy of the 2016 edition of Business Leaders magazine through the mail. The 36-page magazine is packed with the latest news and upcoming activities of the college, information I hope you will take great pride in, including:

Although we continue to strive toward electronic communication to become more sustainable and be better stewards of our resources, approximately 40 percent of our alumni have no active email address on record. To ensure that we are able to continue to communicate with you, given an increased reliance on digital communication, I urge you to please take a moment to update your info at alumni.appstate.edu.
The Business Leaders magazine is one of many ways we hope you will stay engaged with our university, college, departments and programs. Share your story with us, read your fellow alumni class notes, and come back to campus to visit often. This semester, join us for the October 22 Walker College of Business Football Game Day Tailgate (which coincides with Appalachian Homecoming), the October 28 Boyles Distinguished Lecture, and the November 11 Carole Moore McLeod Entrepreneur Summit. Perhaps one of the simplest and most efficient ways to stay connected is to follow the Walker College on Facebook, Instagram, and LinkedIn.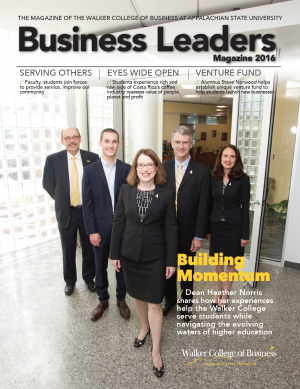 Tags: